AT&T webmail (Yahoo Powers), is the most popular email service in the United States, with millions of users relying on it. I'm also one who uses AT&T services and I literally let you know that their services are awesome.
However, like any other email service, AT&T webmail is not immune to technical issues, and users often face login problems.
These login issues can be caused by a variety of reasons, ranging from simple user errors like – Misspelled Passwords, Wrong mail-id, etc… to server-related issues.
I used At&T email services for the last five years, So I have faced many problems related to login and others, which I want to share with you.
Table of Contents
In this article, we will discuss some of the most common AT&T webmail login issues and I will let you know how to fix the att.net email login –
Steps to Login to AT&T Email
Like Me, You also have an AT&T email account and you want to login into it. Check your important emails received, or if you received OTP from somewhere that's important to you.
Then visit – The AT&T Yahoo sign-in page and follow the next steps as I have mentioned below:
Step – 1. Open your web browser and go to the AT&T email login page at https://more.att.com/email/.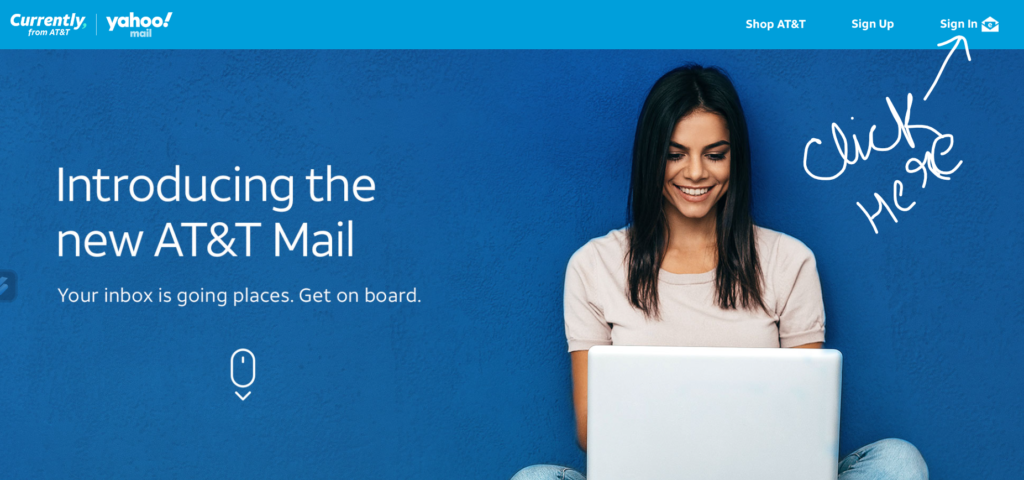 Step – 2. By Clicking, on the Right Corner (Sign In) Button, You can redirect to the main login page.
Where you can fill your details below:
Enter your email address in the "Email" field.
Enter your password in the "Password" field.
Click on the "Sign In" button.
---
What Are Some Common AT&T Webmail Login Issues?
At my very first time, I faced some most common issues while login into my AT&T email account – hope these are normal issues you also faced sometimes when you're in hurry or forgot your credentials.
Here are few most common AT&T Emails Login Issues:
Invalid Credentials
Forgotten Password
Server Issues
One by one, I will explain all these types of issues, and after that, I will provide you with a troubleshooting guide to fix att mail login.
1. Invalid Credentials
In my case, the very first time I forgot to type "@" symbol in my mail id section, and I, again and again, provide the same wrong password and I was totally upset. So, One of the most common reasons for AT&T webmail login issues is incorrect login credentials.
This could be due to a typographical error, such as misspelling your username or password or forgetting your username or password altogether.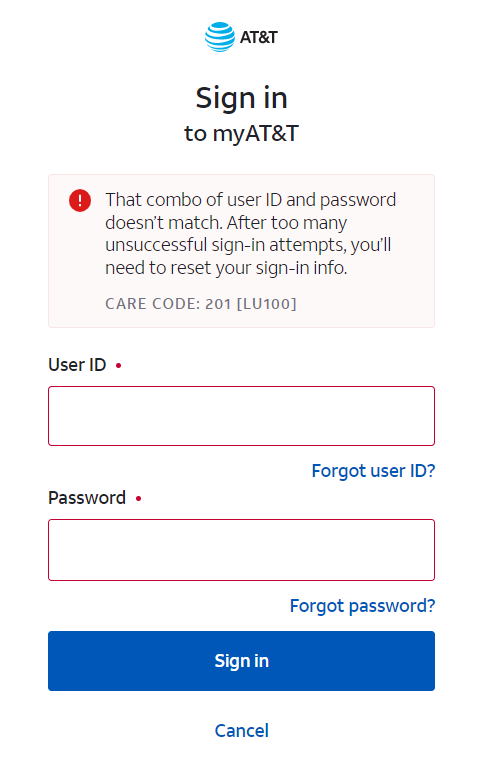 When you try to log in with invalid credentials, you will receive an error message – " User Id or Password doesn't match" that states your credentials are incorrect.
2. Forgotten Password
The next time I forgot my password, that's another issue that generally most users face is forgetting their password.
If you have forgotten your AT&T webmail password just like me, It's a very awkward situation for me not for all but you will need to reset it to regain to access your account.
This can be done through the AT&T webmail login page by clicking on the "Forgot Password" link and following the instructions.
3. Server Issues
Sometimes, the AT&T webmail login issues can be caused by the server. These issues could be due to scheduled maintenance, unexpected downtime, or other technical problems.
Luckily, I have faced this issue 2 or 3 times at Maxx and these issues are resolved by their technical team you don't have to do anything besides check after some time.
4. Internet Issues
Another most common problem is your Internet, check your internet connection – If the strength of signals is good or not, or maybe your internet signals is fluctuating( frequently going up and down). So the stability of signals is not maintained.
---
Reset Your User ID And Password
If you have forgotten your AT&T webmail User ID or password, due to this you are not able to log in to your AT&T email account – Click on the "Forgot Password" link on the login page, this is only the option you have to reset your account.
You can easily reset your User ID and password of your AT&T email account y following the steps given below-
Go to Login Page >> After failed login >> Go To Forgot User ID or Forget Password.
If you have forgotten your User ID >> click on the Forgot User ID? option, | if you have forgotten your password >> click on Forgot Password? Option.
After clicking on the individual option, follow the on-screen instructions to reset your account credentials.
For Forget User Password:
Click on the "Forgot Password" link on the login page and follow the instructions.
You will be asked to provide your AT&T webmail username, and then you will receive an email with instructions on how to reset your password.
After Confirming in another account you will be redirected to the Password Changing Page, where you can change your password easily.
---
How to Fix AT&T Webmail Login Issue:
In this troubleshooting guide, we will cover each possible case that you might face while to logging in your AT&T Email Account –
1. Fix Your Internet Issues
While we are going to fix internet-related issues we can break them into main 2 parts, which are as:
Internet Connection/Speed-Related Issue
Browser Related Issue
So, one by one we can consider each possible case with its fixing:
1. Fix: Internet Connection/Speed-Related Issue
Internet Connection: An Internet connection issue is something like; you want to buy a car and you don't have money to buy a secondhand vehicle for yourself. It's the primary and very basic thing and I hope all of you know how to connect to your internet via – modem or your cellphone on your laptop & mobile.
Speed-Related Issue and Fixing – But the issue arrives after this step If your internet is slow, so please contact your internet provider in this case, we can't help you in this case.
2. Fix: Browser Related Issues
Our main work starts from here, we are able to help you properly now, so we can divide this issue in several parts –
1. An Incompatible Browser –
This is the possibility that your browser doesn't support AT&T, in this case whenever you want to try to go to the AT&T login page – some errors may display, or sometimes a blank screen is shown on the desktop.
To resolve this apply these steps:
try to refresh your page
cut the window and again paste your URL in the google
try to update your web browser
2. Ensure the browser you are using is updated –
If you try logging into your AT&T email account on an outdated browser, you will likely face login issues. If you are on an obsolete browser, update your browser first and try logging into your account.
3. Reset/Restart your browser –
If you use both above methods but after that, you are not possible to log in then try to reset your browser.
4. Use a Different Browser-
This is your last option, which you can choose after using the above methods.