Manchester is an active and bustling city that features an expansive history, an amazing nightlife scene, and a rich cultural legacy – offering plenty of sights and activities.
Manchester was at the forefront of industrialization's revolutionary process and became known as its pioneer city.
Manchester boasts an industrial legacy and a beautiful canal system, giving visitors plenty of things to see and do.
Because Manchester offers so many things to do during the season, many visitors flock here each year. If you live in England but have yet to visit this city, let us make your trip easier by outlining four tourist spots not to be missed in Manchester.
1. Castlefield's Canals
Castlefield is an impressive canal network in Manchester known for its historic significance during the Industrial Revolution and now providing an idyllic environment for walking, cycling and boating activities.
Manchester's canals were constructed during the late 18th and early 19th centuries and played an essential role in its economy. Connecting it to other towns in its region, goods were transported quickly and efficiently via these canals; also used for transporting coal which powered Manchester factories and mills.
Today, Castlefield Canals have become an attractive tourist and local tourist attraction. Visitors can take a leisurely stroll along its towpath while admiring historic warehouses and mills lining its banks – many have since been renovated into apartments, restaurants, or bars, adding even further charm and character to this charming neighborhood.
Boat tours provide visitors with an alternative perspective on the canals, enabling them to witness its history and beauty up close, with knowledgeable guides providing commentary along the journey.
Castlefield boasts many attractions beyond its canals, such as a Roman Fort dating back to 1st century AD and Castlefield Bowl, an outdoor concert venue hosting various music events throughout the year.
Overall, Castlefield Canals should be seen by every visitor to Manchester. They offer an intriguing glimpse into its industrial past while simultaneously providing a relaxing escape from daily life.
2. Imperial War Museum North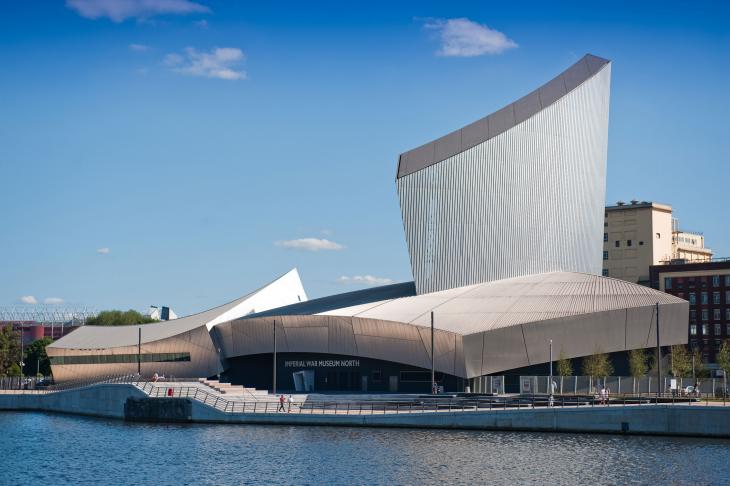 No visit to Manchester would be complete without stopping at Manchester's Imperial War Museum North – an outstanding exhibit that tells the history of modern war from numerous perspectives.
The Imperial War Museum North in Manchester explores the impact of war on lives. Housed within an eye-catching building designed by architect Daniel Libeskind – itself an artistic piece – it explores these effects with great success.
The Museum's exhibits showcase an array of conflicts, from World War I to today. Their galleries use interactive displays, artifacts, and multimedia presentations to tell the stories of those directly and indirectly affected by war – both those on the front lines as well as at home.
One of the museum's most captivating exhibits is its Big Picture Show – a 360deg projection that transports visitors back in time to experience war first-hand through real-life stories of soldiers, civilians, and refugees – offering powerful yet emotional insight into its effects.
Other notable exhibits at the museum include Horrible Histories Blitzed Brits, which explores life during World War II's Blitz, and War and Conflict Gallery, which covers conflicts from Korean War through today.
Overall, the Imperial War Museum North is an inspiring and engaging museum that offers a fresh perspective on how war has affected lives around the globe. Anyone interested in history, politics, or the human experience should make time to visit.
Visit this museum to gain an understanding of its effects and causes, along with personal accounts from those impacted by World War I.
If you are interested in the history of the military and want to experience WWI first-hand, The Imperial War Museum should be on your itinerary.
3. Manchester Cathedral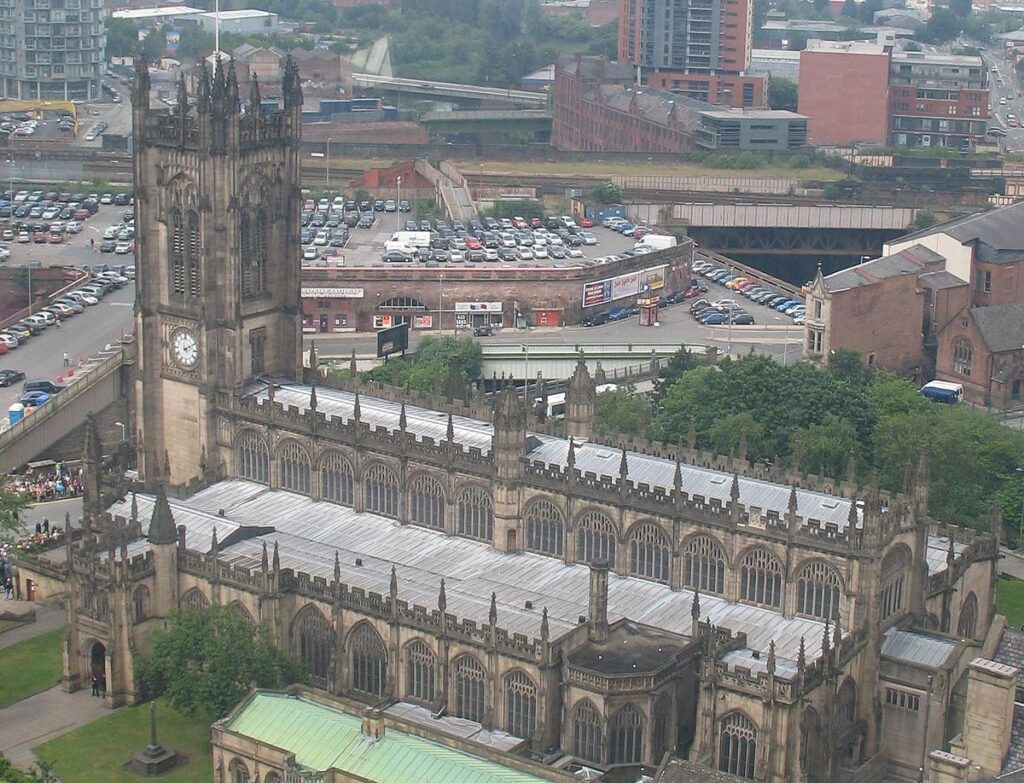 Manchester Cathedral is one of Manchester's most exquisite and historical attractions, dating back to the 14th century. A must-visit for visitors to Manchester with its Gothic architecture and rich history, Manchester Cathedral remains one of England's most beautiful places.
Visitors to the cathedral can explore its various chambers and marvel at its ornate exterior details.
Manchester boasts an impressive industrial heritage and stunning architecture, but if you want a memorable place that combines beauty with historical significance then The Manchester Cathedral may be just what you are searching for.
4. Chinatown
Chinatown Looking to meet and get acquainted with members of China's community? Chinatown can be the ideal spot.
Chinatown in Manchester is the second-largest concentration of Chinese residents within Manchester and the United Kingdom. To explore it fully, book a guided excursion.
Be amazed by the intricately decorated arch gate and Chinese handicrafts! You will be truly inspired!
If you are interested in purchasing Chinese artifacts, chances are you can find what you are searching for at one of the stalls or at the Center of Contemporary Chinese Art.
5. The John Rylands Library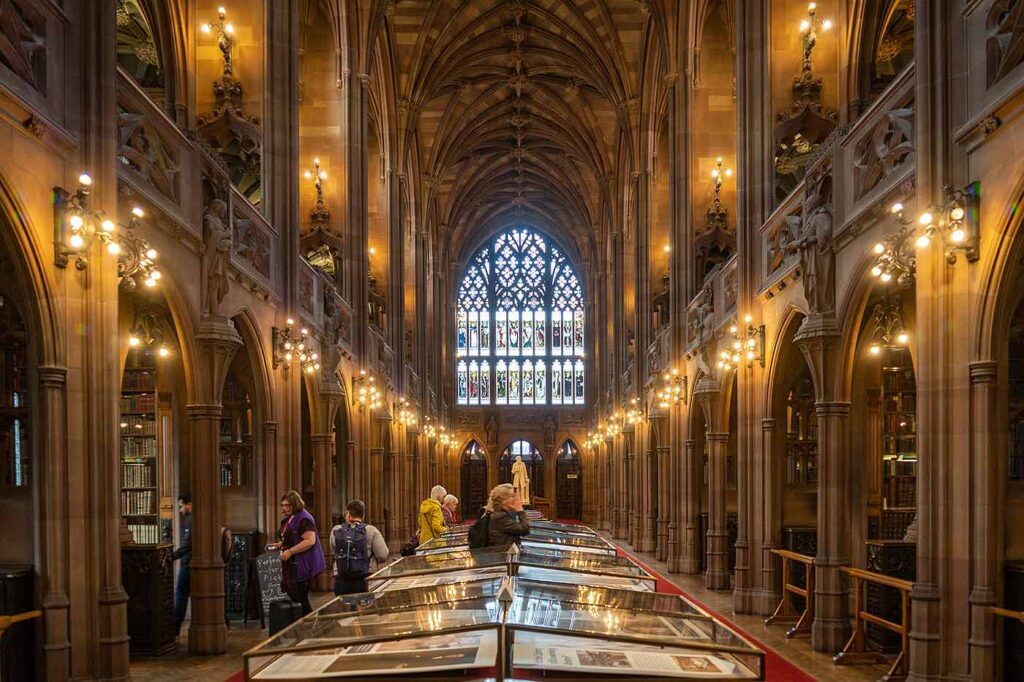 This striking Gothic-style library is a hidden treasure in the city. It houses an expansive selection of rare books and manuscripts – including an original Gutenberg Bible!
The John Rylands Library in Manchester, England is an elegant Gothic-style library established by Enriqueta Rylands to honor John Rylands after he passed away. Open to the public since 1900.
The library is widely known for its remarkable collection of rare books and manuscripts, including only four complete Gutenberg Bible copies in existence worldwide. Furthermore, other rare and valuable books include medieval illuminated manuscripts, early printed books, as well as major works of literature and history.