According to the US Centers for Disease Control and Prevention, one in four Americans aged 65 and above fall every year, making this the leading cause of fatal injuries in older adults. Bathrooms are a common site for these accidents to occur, urging you to weigh out your options for a bath chair for seniors, grab bars for additional support, and other devices or mechanisms.
As seniors progress towards their twilight years, there are numerous things you can do to reduce the risk of fatal accidents in the bathroom. Moreover, you can help restore a level of independence, privacy, and comfort in elderly individuals.
Bathrooms are considered safe spaces. When the proper precautions are taken, you can extend this sense of safety to older individuals. A simple evaluation of existing bathrooms can help you assess how much work needs to be done to make the space more senior-friendly.
Chances are, you can work with what you already have with some additional devices, mechanisms, and personal or professional caregiver assistance.
Don't wait for a serious accident to occur before putting in the work.
Here are some bath safety tips for seniors:
1. Reduce Clutter
Before installing any new fixtures and making bathrooms more senior-friendly, it's important that you reduce all existing clutter. Seniors need a clear path to and around the bathroom to reduce the risk of tripping. Spaces should be wide enough to accommodate walkers or wheelchairs.
Make sure that you only keep the necessary tools and accessories and have these within reach. You can install cabinets for storage to avoid having bottles and other things scattered all over the floor.
You can also utilize a shower caddy to place all necessary bath items and have them within arm's reach. This can be hung on a shower head, bathroom chair, or at the ledge of a tub.
Install grab bars for support
Grab bars are commonly found and can be installed in areas that the elderly will need the most assistance. These are typically installed beside the toilet, and by the bathtub or shower. They can offer support and help seniors find stable ground when standing and sitting.
Grab bars are also great in the event of seniors slipping or tripping. Seniors can grab onto these bars to prevent a more fatal fall. Wall-mounted grab bars are likely the safest option due to their stability, also giving you the opportunity to install these in your chosen position and location. You may contact an Orange County iron work services to install a grab bar in your bathroom.
2. Replace Your Faucets
Twisting and turning faucets with compression-style handles may be difficult for seniors to accomplish. Lever faucets simplify the process of turning the water on and off. These allow for quicker temperature adjustments as well.
In some cases, you may also want to opt for foot-operated or sensor-operated faucets. These can prevent faucets from leaking when left on, which could lead to electrocution or other serious safety concerns.
3. Consider A Bathroom Chair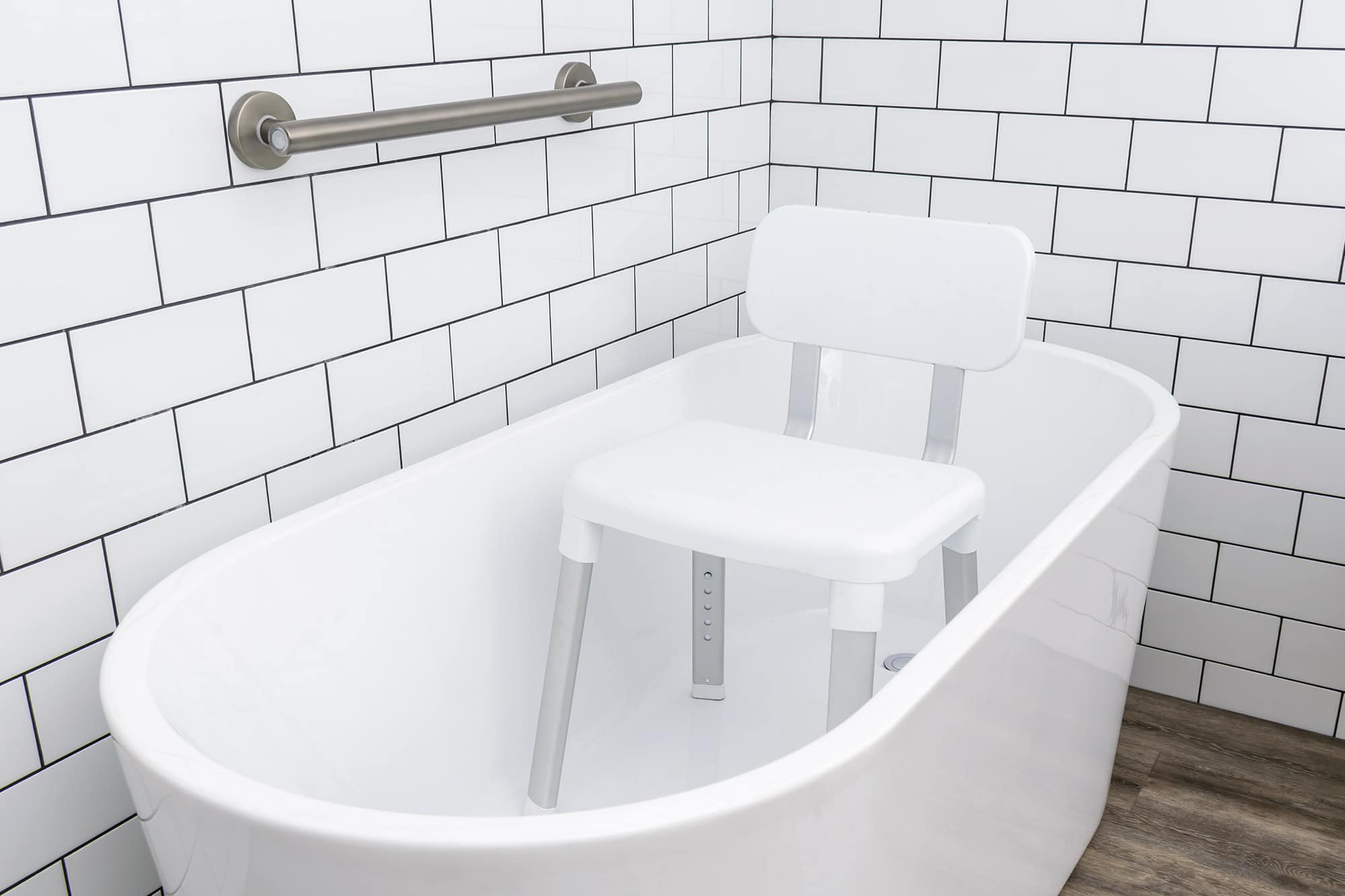 Aside from accessorizing with non-slip shower mats, you should also consider getting a bathroom chair for elderly individuals. A bathroom chair can significantly mitigate the risk of falls and life-threatening accidents.
Bathroom chairs also give seniors a level of independence as they may be able to bathe themselves with little to no assistance. When choosing a bathroom chair, you need to think about the needs of the senior who will be using it.
There are regular-sized chairs, as well as those with wider seats. Some bathroom chairs have a hole in the middle to be used like a toilet, and others also have reclining features. Other chairs are fashioned with wheels for better mobility as well.
Also, make sure that your chosen bathroom chair has rubber on its legs to keep it firmly in place even when the floor is wet.
4. Get A Transfer Bench For Smooth Transitions
Besides having a bathroom chair, a transfer bench is what will allow for a smooth transition in and out of the bath. An elderly individual simply has to sit on the bench's base outside the tub, then use its arms to move and swing their legs over to the other side inside the tub.
Users can remain seated during the bath and be supported with back rests. Some transfer benches also have adjustable legs to accommodate different heights. Others also have drainage holes to minimize mess.
5. Add A Handheld Shower Head
If the bathroom has a regular tub or overhead shower, it's advised to add a handheld shower head as well. There are several kinds of handheld shower heads with features to suit every need. You will be able to adjust water pressure and temperature.
Handheld shower heads are easy to manipulate. They work best in tandem with a bathroom chair, allowing the elderly to clean hard-to-reach areas without straining their bodies or stretching uncomfortably.
The flexibility of handheld shower heads makes it a great bathroom addition for seniors, particularly those with arthritis or Parkinson's disease. Try to look for handheld shower heads that have adjustable spray settings for greater comfort during bath time. It may also be good to opt for a shower head that has non-slip grips to prevent mess.
6. Raise The Toilet Seat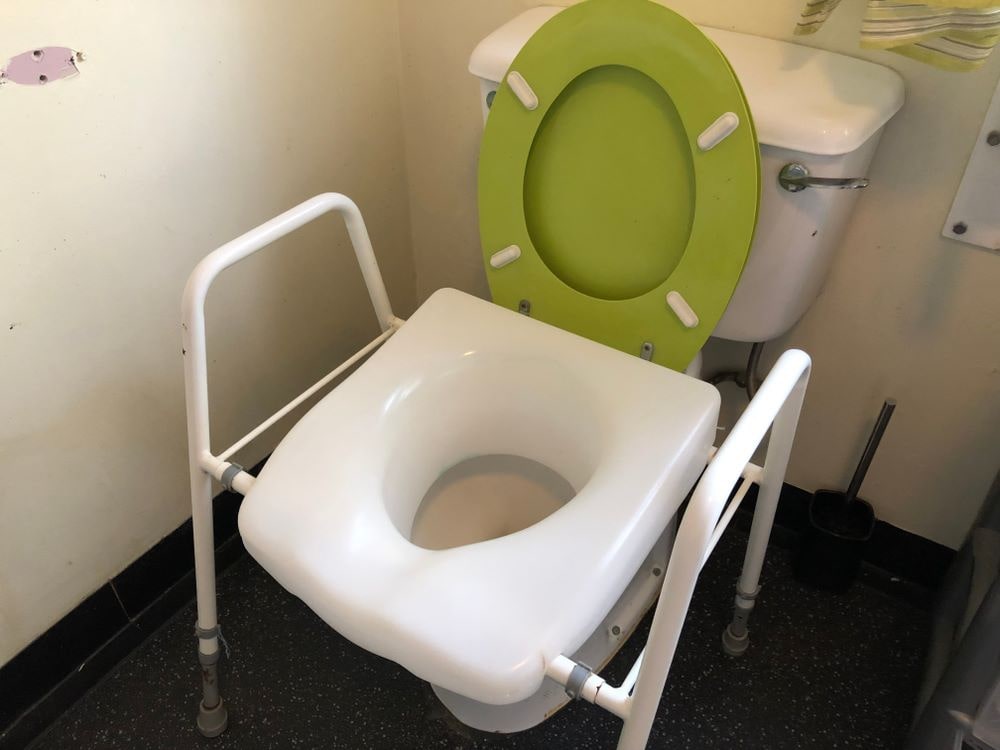 Sitting on a toilet and standing up from one may cause a lot of difficulty, so you may have to raise its seat. Luckily, there are a lot of raised toilet seats or alternative assistive toilet devices available. One thing to note is that the senior using the toilet should have his or her feet firmly planted and flat on the floor.
Elevated toilet seats allow users to make sure that their hips are in a comfortable extended position while they are sitting down. These are also ideal for seniors who have had hip surgery as it manages hip rotation and adduction. It is advised that the toilet is 17 inches from the floor.
7. Attach Toilet Accessories For Easy Cleanup
In conjunction with raised seats, you may want to add other toilet accessories for easy cleanup. Bottom wipers let the elderly be independent in the bathroom as they will be able to clean themselves easily. Ergonomic design prevents users from overextending their hands and arms.
Bidets may be another useful toilet accessory for seniors concerned with personal hygiene. Electric bidets can be activated with a remote control or panel, letting its users adjust water pressure, seat temperature, and turn the device on and off. Some of these also have an air dryer feature.
There are also manual bidet options that involve built-in systems which are easy to install. They cover basic needs, and still get the job done with nozzles and adjustable water pressures.
8. Use Additional Nightlights
Lighting is key in managing accidents, especially those that may occur at night. Motion sensor lights are a fantastic option for the elderly as these can instantly illuminate their paths on the way to the bathroom.
For the bathroom itself, it may be helpful to install night lights by the toilet. Some motion sensor lights can be attached on the edge of a toilet seat for better navigation and aim. These will automatically switch off when users leave the room.
Seniors who are visually impaired may not realize that the room is darker than it actually is. Given that someone may not be present to assist the elderly individual when they use the bathroom at night, these night lights are extremely crucial bathroom additions.
9. Tackle Slippery Surfaces
Bathrooms are filled with potentially slippery surfaces, so do what you can to reverse this. Non-slip mats or decals can be placed by a shower or bathtub. Replace regular rugs with these mats for enhanced safety.
Other slippery surfaces may include handles for shower heads, grab bars, and others. Gripping tape can be fashioned on these surfaces to secure elderly individuals' grip. These can be replaced whenever needed.
10. Monitor And Maintain Water Temperatures
One thing you have to be consistent about monitoring is the bathroom water temperature. The ideal temperature is around 100 °F.
You can check the water temperature with a bath thermometer or have a professional come in and adjust your water tank. If possible, test the water temperature each time the elderly individual is about to bathe.
The American Hospital Association has found that 112,000 people visit the emergency room annually due to scald-related accidents, which are mostly preventable. It is important that you or a caregiver is able to manage these potential injuries, especially since sensory perception decreases with age.
Hotter water can be harmful for those who have cardiovascular problems or heart conditions. Higher temperatures can scald the skin, and lead to burns and infections down the line. On the other hand, colder water temperatures can inhibit blood flow and constrict blood vessels, thus affecting one's internal organs and heart.
Monitoring and maintaining bath water temperatures is not merely about comfort, but safety. These could have serious repercussions on the health of elderly individuals.
A little attention to detail can go a long way. You can immediately take the necessary precautions to transform an existing bathroom into a hub of safety and comfort for the elderly. Both you and your loved ones can find peace in knowing that you have created a safe and accessible environment.
Got more bath safety tips for the elderly? Comment below and let's discuss!