Video advertisement is receiving widespread popularity because of innovative technology.
The right way to grab users' attention is by using more social media channels, email & websites. Due to this driving popularity of video editing, the need for good software has also increased. Multiple free online video editing tools are available, but most require access to subscribe to premium features. It minimizes the scope of creativity if you don't want to take a subscription.
Even if you subscribe to any particular software solution later, it might not meet the requirements. This is when CapCut comes into the frame. 
This online video editing tool solves multiple video editing-related problems simultaneously. This tool can work on different devices, which is why many content creators are currently using this. CapCut comes with a cloud storage facility to keep your data secure. It allows content creators of different niches to create videos of their choice.
Anyone can use this tool to edit their video or serve video editing services. Having an efficient camera is not enough to produce a video. If you want engagement, sound knowledge of video editing tools is necessary. Let's try to understand this video editing tool's features.
The main features of the CapCut video maker for free
1. Video screen cropper: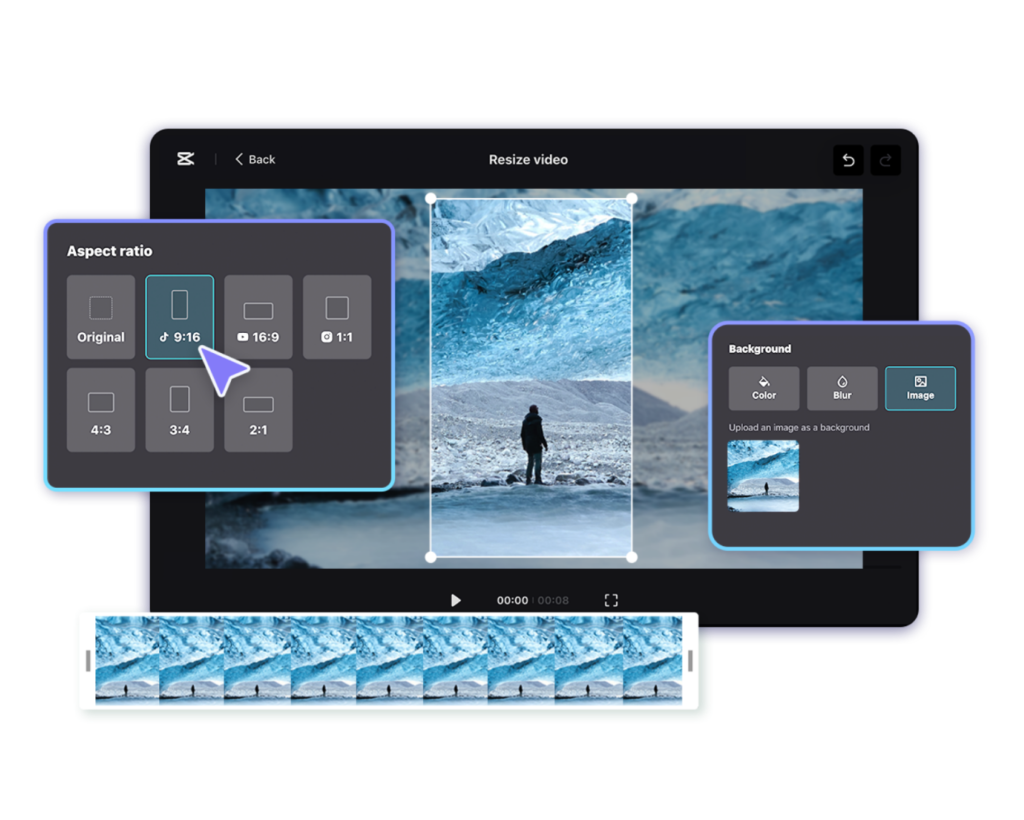 CapCut online video editor allows cropping your videos into any aspect ratio. Users can easily resize the video through this tool. Import a video & click the crop button to balance the size. Choose the aspect ratio you want in your video & adjust the cropper frame. Once you are done, you can export the video in your desired resolution and share it!
2. Video duration trimmer:
When we make a video, there are lots of parts in the end which we want to remove from our final file. To trim out those unwanted parts, use the CapCut Video trimmer feature. Select the part you want to trim and click the button to cut that shot.
3. Video files merger:
If you shoot multiple videos from multiple devices, you can import and combine them. CapCut allows merging multiple files at a time based on your need. Once you merge, export the final file and share it with the world.
The advanced features of CapCut
1. A vast library of video templates:
Multiple ready-to-use templates are something that every video editor needs. No one can entirely edit the video from scratch without ready-made ant templates of music, text styles, and effects. CapCut lets you add various sound effects to your video to make your content more engaging.
2. Create multiple texts instantly:
This feature allows the creation of auto-caption & auto-suitable functions for generating texts instantly. Users can adjust the font size, color and text placement. CapCut offers text template features that can be used for adding quick titles, captions, and much more to your videos.
3. High-resolution parameters setting:
After you are done with the editing, you can export high-quality videos in your desired resolution. Export the 4K videos without any watermark. CapCut offers custom video export resolution with HD video editor support.
4. Remove the background of your video with one click: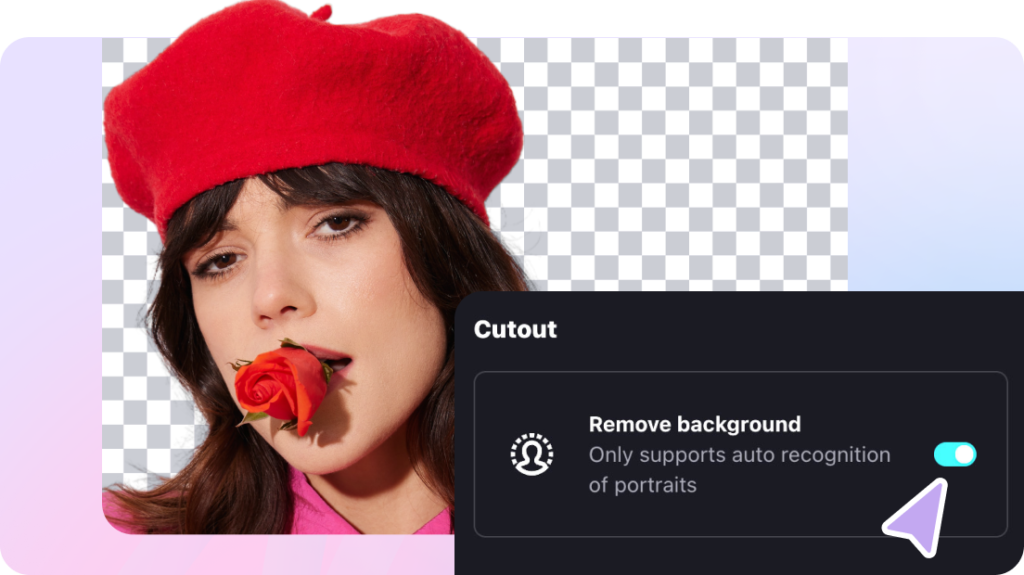 CapCut allows removing unwanted backgrounds from the video without any cost. The background removal feature automatically detects the objects on your background and separates them if you want.
You can replace that background with any new image or green screen. Users can adjust the accuracy level to ensure a clean cutout.
Here's how CapCut make a wonderful video with built-in assets
To start editing with this tool, visit the CapCut official website and click the "Try For Free" button. You will automatically be redirected to the next window afterward. Select the ratio & click on the Create button to get started.
Step 1. Choose a video template to get started
On your screen, you will see a bunch of templates. You can select any of the templates from them and start from scratch. Now click the upload option to add the video you want to edit. Users can also import their videos from Google Drive and Dropbox. Drag the video to the timeline and start editing.
Step 2. Select music and text templates from built-in stock and add them to track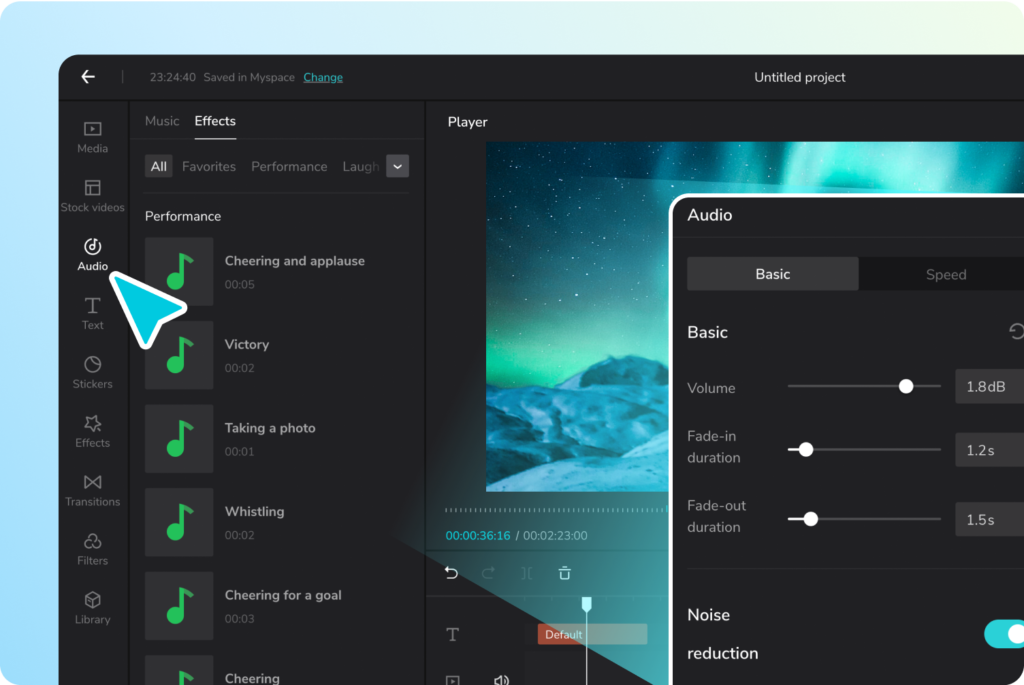 To add background music to the video, click the audio button on the dashboard's left side. Select the recommended music on the timeline and click the add button. Choose the parameters, and that's it.
To add text, hit the Text Icon present on the left-hand side. Select any of the designs mentioned on the screen and press the + button. To edit the text, press the button on the right-hand side. Users can edit the text based on style, color, format, etc.
For better video transformation of video, you can also add filters and transitions, available in the right-hand corner. Adding these effects makes your video more engaging and reachable to potential viewers.
Step 3. Set video resolution, frame rate, format, and then download it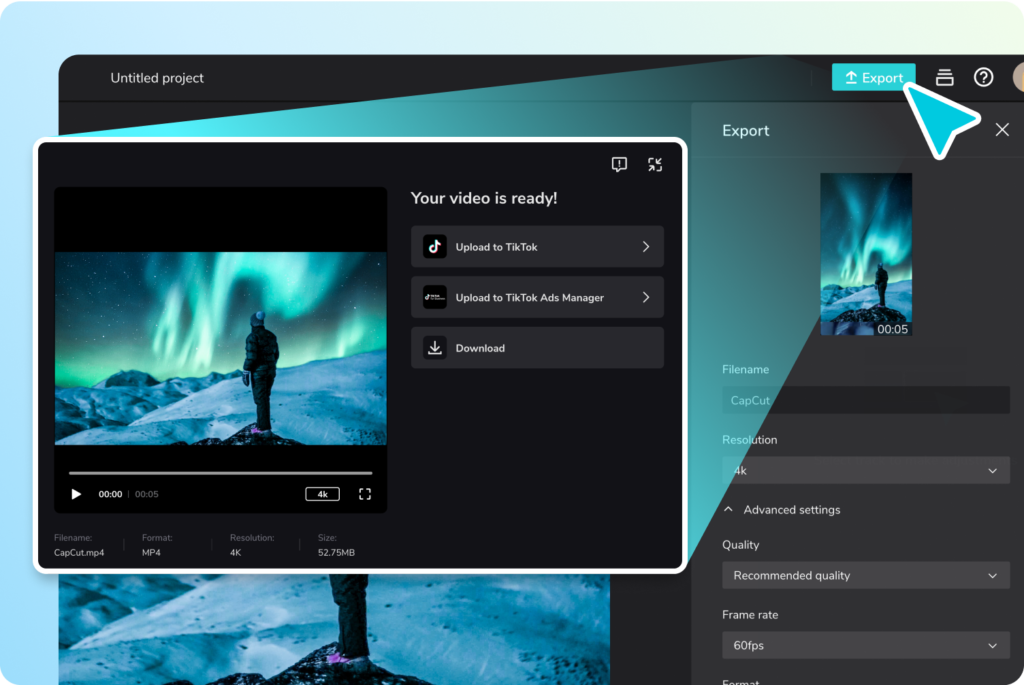 Once you are done with all the changes, you can save your videos. Users must simply click the Export button at the upper right-side corner. When you click on the resolution tab, choose the 4K resolution in the drop-down menu and then export again. You can directly save the video in your system folder, or you can share this directly on your social media platforms.
The Bottom Line
CapCut online video editor is widely popular as a free online video editing tool offering various features. It makes editing easy and smooth for all age groups of people.
The simple design, engaging effects, and attractive templates make this prominent for anyone to use. Whether you are experienced or a newbie, this is the perfect tool anyone can use.
Some features like adding music, applying filters and adjusting the play speed make this tool Top-class. It makes the video editing done in just a few clicks. It keeps your data stored safe and reliable. There are many more excellent enhancing features that a user can explore when he/she uses this for real-time work.