The service announced on Friday it will no longer operate the portion of its website that allows individuals to seek encounters with strangers.
You can still find furniture or a roommate on Craigslist. But ads seeking romance or sexual connections are no longer going to be available, after Craigslist took down the "personals" section Friday for its U.S. site.
The move comes two days after the Senate approved of bipartisan legislation called the Stop Enabling Sex Traffickers Act.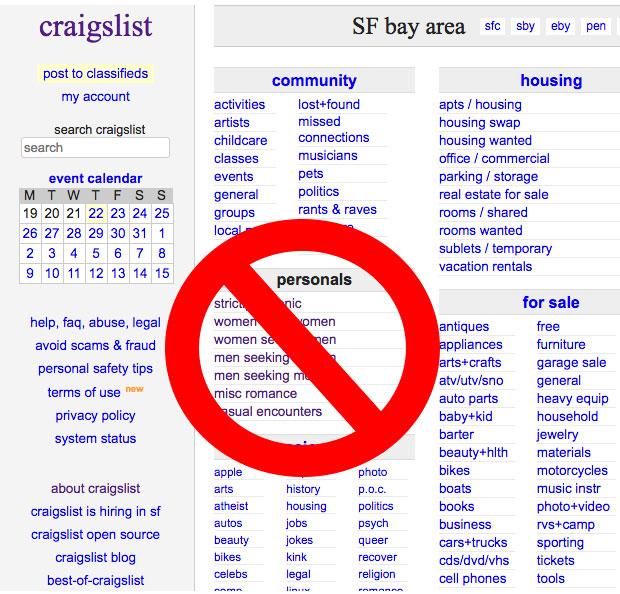 The company says it made the change because Congress has passed the Fight Online Sex Trafficking Act, meant to crack down on sex trafficking of children. It was approved by a landslide in the Senate earlier this week, as NPR's Alina Selyukh has reported, but has been met with criticism by free speech advocates and sex workers.
The legislation, now awaiting President Donald Trump's signature, would create an exception to Section 230 of the 1996 Communications Decency Act, which would pave the way for victims of sex trafficking to sue websites that facilitate their abuse.
The House version already passed with overwhelming support and received an endorsement from the White House.
Companies are expected to act in good faith to protect users from "obscene, lewd, lascivious, filthy, excessively violent, harassing, or otherwise objectionable" content. Critics argue it can, and has, be used as a shield that protects companies from being held liable.
"Any tool or service can be misused," Craigslist said. "We can't take such risk without jeopardizing all our other services, so we are regretfully taking craigslist personals offline. Hopefully we can bring them back some day."
Until 2009, Craigslist had a section of the website called "erotic services," where people openly advertised sex. That year it changed the name to "adult services" and promised stricter screening, after a medical student in Boston was accused of killing a woman he met through the site, NPR's Tovia Smith noted. Craigslist eventually stopped listing ads for "adult services" in 2010, as NPR reported, though its personals section has continued until now.
Reddit has also announced policy changes this week. It said that users could not use the site to "solicit or facilitate any transaction or gift involving certain goods and services," which include:
"Firearms, ammunition or explosives;
"Drugs, including alcohol and tobacco, or any controlled substances (except advertisements placed in accordance with our advertising policy);
"Paid services involving physical sexual contact;
"Stolen goods;
"Personal information;
"Falsified official documents or currency"
The Reddit statement adds: "Reddit is not intended to be used as a marketplace and takes no responsibility for any transactions individual users might decide to undertake in spite of this." As the site wrote, "Always remember: you are dealing with strangers on the internet."
The personals section, which is still visible on the Craigslist homepage, now redirects users to the announcement about the shutdown.