Most of us spend time at home almost every weekend. Some go out for a party and come back within a few hours. But the best experience comes only with the craziest ideas.
And if you're looking to make your weekend even more memorable, you're at the right place. We have curated a list of crazy things to do with friends. The best part? We ourselves have done a few of them.
So, without any further ado, let's jump right in.
1- Go Trekking on an Electric Bike
If you and your friends love adventures, then this one's for you. Get a fat tire e Bike and go offroading or trekking in your nearest mountain. The best part is that you don't have to paddle your way through it.
The eBike can go as much as 48 miles on a single charge (that takes around six to seven hours). And as the name suggests, it has fat tires, making it perfect for terrains and bumpy grounds. Besides, they are puncture-resistant.
2- Catch a Bus to Somewhere Random
You might have heard the best trips are unplanned. And they are. So, as soon as you head home from the office on Friday, pack your bags and board a bus to somewhere random with your friends. The chances are you'll have an unforgettable trip.
You can make the trip even more adventurous by challenging each other to head back home without using public transport. This means you'll have to walk, hitchhike, take a lift, or exchange things to get back home.
This way, you will get to meet new people, improve your problem-solving skills, and see new places on the way back home.
3- Play a New Sport
If you are a sports lover, it's time to up your sleeves and try something new. Catch your friends and try a sport that you've never done. It doesn't necessarily have to be an outdoor game. For example, you can try the mechanical bull ride if you haven't.
You can also join a weekend martial arts or kickboxing class and learn something new while still enjoying yourself with your friends. This way, you'll meet your daily exercise goals without feeling like it.
4- Try Hot Air Balloon Ride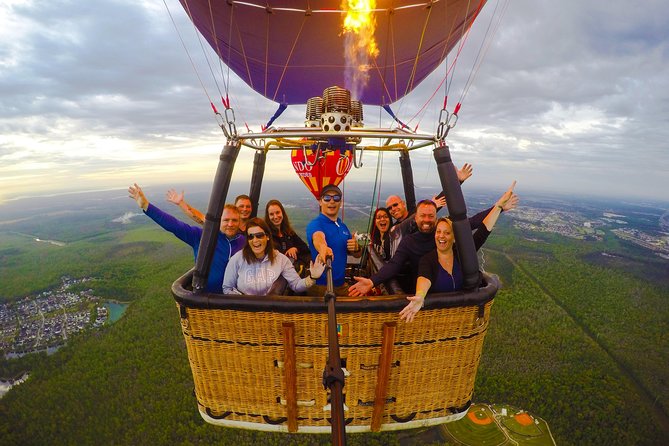 You don't need a special occasion to try a hot balloon ride. They're super affordable, especially if you have got a group of people to do it. A hot air balloon ride will definitely give you a feel of flying and create lasting memories.
These days, hot air balloon companies operate from almost every state, making it easier for you to find your ideal ride. You can sail above your city and look how mesmerizing it is from high altitudes. Also, don't forget to take your camera with you so you can record this.
5- Visit Haunted House
If you and your group are fans of horror movies, you might have already seen a bunch of people visiting a haunted house and spending a night there.
There are a lot of haunted places everywhere, and there's no reason not to visit them. However, make sure that the house you're visiting is not banned from the public (especially at night or you might land yourself in legal trouble).
You can even consider setting up tents nearby the haunted house for an amazing experience. And share ghost stories with each other to make the night even more thrilling.
6- Go Skydiving
If your budget allows, go skydiving this weekend. Look for nearby skydiving areas and book your slot in advance as they're usually filled up during the weekend.
You'll get to experience just like you see in the movies, three-four friends holding their hands together thousands of feet above the land. Skydiving is a once-in-a-lifetime experience that you are highly unlikely to forget. Also, if you have a GoPro, you can even film your entire experience.
Wrapping Up
Friends can make our days happier and more memorable. And by doing crazy things together, you can strengthen your bond and create lifetime memories. We've listed the craziest things you can do with your friends this weekend.
Want to share your experience with us? We're all ears!