Hunting down the ideal pair of jeans can be quite challenging, no matter your body's unique contours. If you've ever resorted to acrobatics like yanking your jeans through the belt loops or executing a series of jumping squats to attain that elusive comfort, take solace that you're not alone – we've all been there!
The reality is that our bodies come in diverse shapes and sizes, making the quest for the perfect denim a true trial-and-error endeavor. Fortunately, a strategy to simplify this pursuit is aligning your search with your body type. By gaining insight into your specific body shape, you can pinpoint the jeans' cut and style that accentuate your figure most flatteringly.
Discovering the Ideal Jeans for an Hourglass Figure:
While five primary body types exist, this post hones in on the hourglass shape. So, if you boast the alluring curves of an hourglass, we've unearthed the finest jeans tailored to your physique. Additionally, we've compiled stylish outfit ideas to ignite your daily fashion inspiration for 2023!
What is an hourglass body shape?
The following features characterize an hourglass body shape:
A prominent waist-to-hip ratio results in a well-defined waistline.
Shoulders and hips approximately the same width create a balanced upper and lower body.
A full bust and shapely, well-proportioned buttocks.
Individuals with an hourglass figure are typically considered curvy due to their well-balanced and voluptuous proportions.
Read More - What Shoes To Wear With Black Dress?
How to Discover the Perfect Jeans for Your Hourglass Figure
When it comes to identifying the ideal jeans for your body, the ultimate judge is you. Nonetheless, to simplify your jeans shopping journey, here are our top recommendations for finding jeans that complement your hourglass shape:
Seek out stretch denim.
Look for jeans incorporating stretchy materials like lycra, spandex, and elastane. These fabrics allow the jeans to conform and adapt to your body's contours.
However, be cautious not to opt for jeans with excessive stretch, as they may become overly baggy as the day progresses. A stretch percentage ranging from 2% to 6% is generally the sweet spot.
Choose jeans with a contoured waistband.
Many "curvy" jeans feature this design element, providing extra room in the back to accommodate your curves comfortably.
Opt for a high waist or high rise.
Selecting jeans with a high waist or high rise, as opposed to low-rise or mid-rise options, ensures that your jeans sit right at your narrowest point—the defined waist. This style not only enhances your waistline but also accentuates your curvy hips.
Embrace variety
While some fashion guidelines may suggest avoiding specific types of jeans, we believe in embracing whatever makes you feel beautiful. Yes, you can confidently wear skinny jeans with an hourglass body shape. And what about flare-leg jeans?
Absolutely! They can help balance out your lovely curves and create an elongating effect on your legs if that's what you aim for. In essence, the key is to be yourself. We're here to support you in feeling your best and most confident self every morning when you get dressed.
SEE ALSO - 8 Best Colors For Bridesmaid Dresses You Should Choose
Best Jeans For Hourglass Figure 2020's Era(2023-2030)
Here's a list of the best jeans for an hourglass figure in 2023 – 2030:
1. Madewell Curvy Kick-Out Crop Jeans
These jeans are designed for women with curves and feature a narrow, contoured waistband to eliminate awkward gaps around your waist. They have a higher rise for ample coverage.
2. Everlane 90s Curvy Cheeky Jeans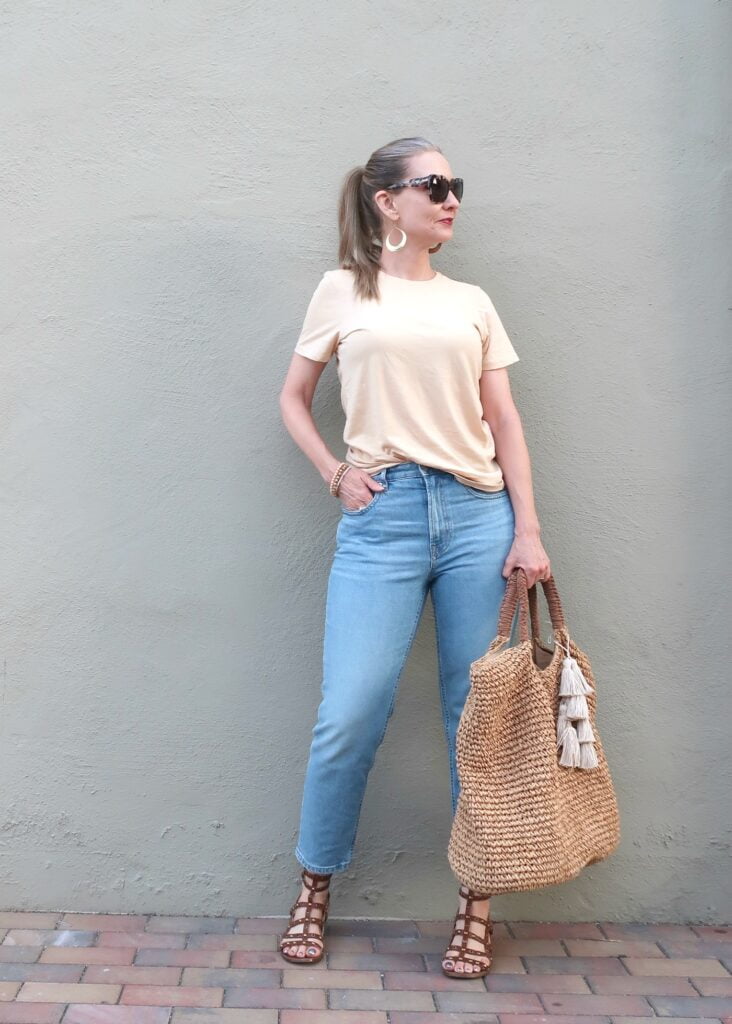 Everlane's vintage-style jeans are designed with a smaller waist to fit hourglass shapes perfectly. They also have the ideal waist-to-hip ratio for curvy figures.
3. Mother Hustler Fray Ankle Bootcut Jeans
These jeans offer a slim, high-rise waist that accentuates an hourglass figure without any unwanted waist gap. The bootcut style helps balance your curvy shape.
4. High-Waisted Fray Hem Jeans for Moms
Similar to the bootcut version, these jeans have a sleek, high-rise design and are made from a stretchy material that fits comfortably around your curves.
5. Abercrombie Curve Love 90s Straight Jeans
These trendy 90s-style jeans are high-rise and stretchy, making them fashionable and well-fitting for hourglass figures.
6. Abercrombie Curve Love High Rise Slim Jeans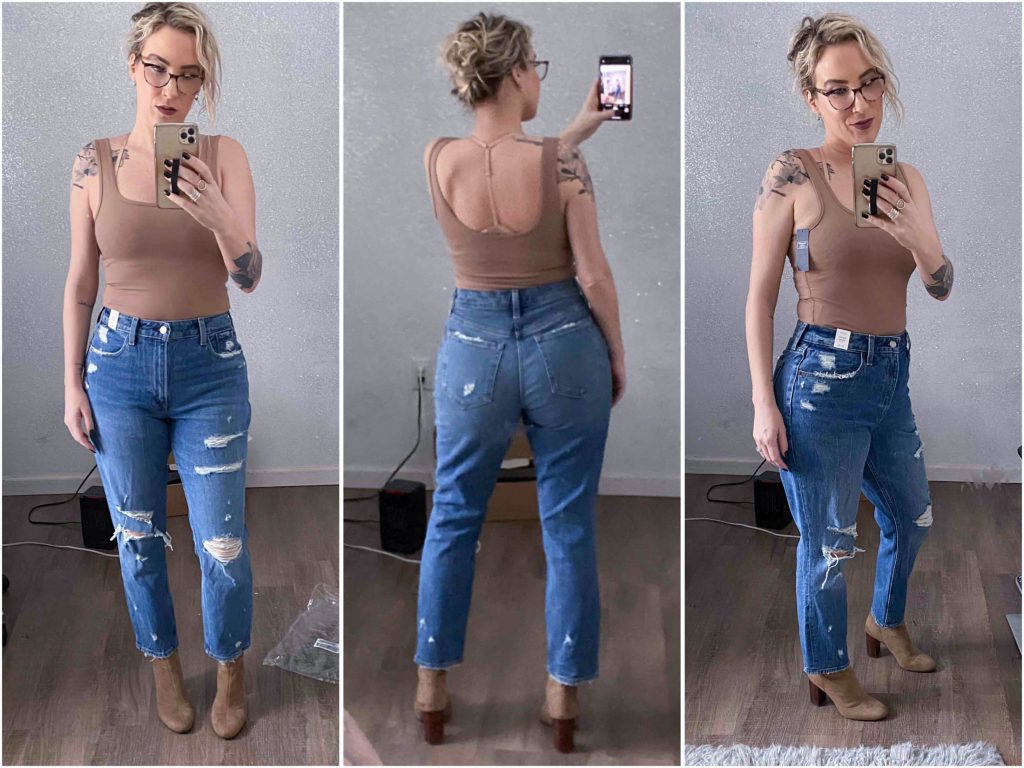 Another great option from Abercrombie is that these slim-cut, high-rise jeans are designed to fit your waist and hips perfectly.
7. Good American Good Curve Compression Jeans
Good American is known for designing jeans that fit natural bodies; these jeans are no exception. They feature a high-rise and contoured seam to enhance your curves and compression denim for all-day comfort.
8. Made well Curvy Perfect Vintage Jeans
These jeans come with edgy ripped details and a slim-fitting waist, offering extra room for your hips and thighs, making them ideal for hourglass figures.
9. Good American Good Curve Straight Jeans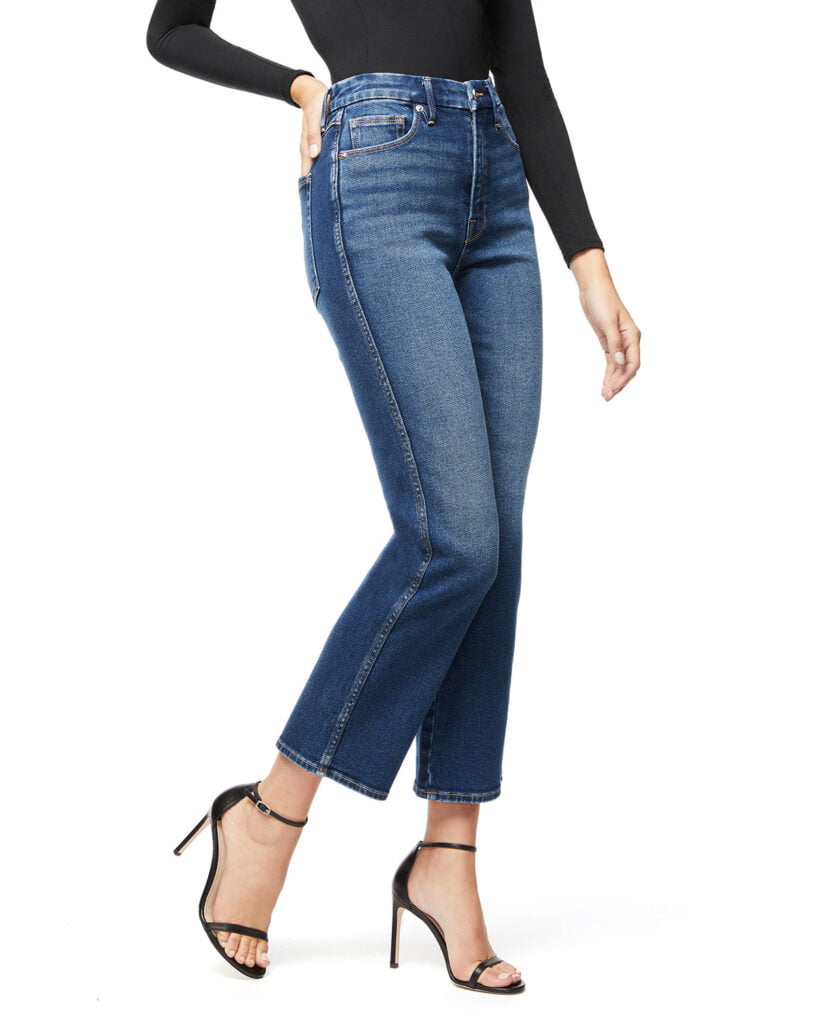 With an ultra-high-rise and stretchy material, these jeans provide a perfect fit without being too tight. They also feature a contoured seam to accentuate your natural figure.
These jeans are tailored to flatter hourglass figures and help you feel confident and chic in 2023 – 2030.
TOP 5 TIPS FOR BUYING JEANS ​​WHEN YOU ARE AN ​​HOURGLASS SHAPE
Here are the top 5 tips for buying jeans when you have an hourglass shape:
1. Buy a Smaller Size: Consider purchasing jeans that feel tight when trying them on. Denim often relaxes over time, so starting with a slightly snug fit can ensure they fit perfectly after a few hours of wear. When trying on jeans, grab your usual size and one-half size smaller. Opt for the smaller pair if you can comfortably get into them; they should stretch to the correct size.
2. Choose High Rises: High-rise jeans are often flattering for hourglass-shaped women. They complement your naturally curved waist and help emphasize your defined waistline while showcasing your legs.
3. Go for Curvy Fit Styles: Look for jeans labeled "curvy fit." These are specially designed to accommodate a defined waist and a curvy frame, resulting in a better fit without the annoying waistband gaping. Consider checking out retailers that specialize in curvy denim for more options.
4. Embrace Details: While some may prefer plain jeans, don't shy away from styles with fading and whiskering. These details can enhance your curves and define your waist, adding visual interest to your jeans.
5. Opt for Straight Cuts: Straight-cut jeans are excellent for hourglass shapes. They fit well at the waist without gaping around the hips and thighs, providing a flattering and balanced look for your figure.
These tips should help you find the perfect jeans that flatter your hourglass shape and make you feel confident and comfortable.
Conclusion:
Searching for the perfect jeans shouldn't be a struggle if you've been fortunate enough to have an hourglass body type. This style guide featuring the best jeans for hourglass figures will make you slip into the ideal pair effortlessly, allowing you to flaunt your stunning, curvy figure confidently!
Remember to seek out jeans specifically crafted with hourglass figures in consideration, and don't hesitate to experiment with various leg styles and denim washes to diversify your wardrobe.
Happy shopping!