If you ask people, old or young, why they love watching anime, most of them will tell you they do so to relax and have fun. They are correct. Anime helps you relax and get rid of any stress after a hard day's work and brings joy and happiness to your face.
But, did you know watching anime has numerous other benefits too?
Watching anime helps food and art enthusiasts learn enormously about Japanese art, food, and culture. It introduces viewers to the ugly side of human nature and teaches people to value and respect friendship and relationships.
Anime teaches people the importance of hard work, patience, and teamwork. It provides the building blocks that are so essential for a person's mental growth. Last but not least, anime delivers strong messages to society through its various characters.
With so many benefits it offers, it is no surprise that the popularity of anime has constantly been growing over the last few years. So much so that it has now crossed over from Japan to international territories. One such anime that is causing a sensation worldwide is Ranking of Kings, streaming currently on Funimation.
This post reviews the anime Ranking of Kings and the best tool for downloading Funimation videos for offline viewing, the MyStream Funimation Downloader.
Let's get started:
Ranking of Kings: The Most Lovable Anime of 2021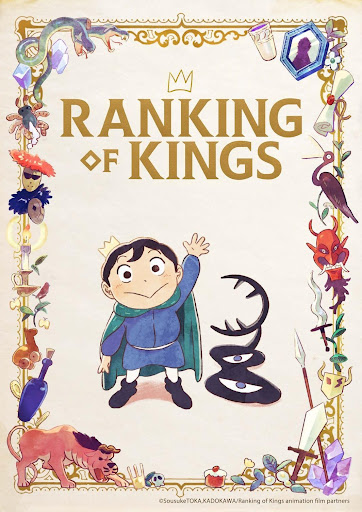 If you believe in the age-old adage 'love at first sight,' Ranking of Kings, the new anime based on the manga written by Sosuke Toka, is sure to take your breath away.
The animation series introduces plenty of interesting characters to the audience. And the most lovable of them all is the deaf prince Bojji, the king-in-waiting who prefers to act like an underdog but is way smarter than what most people consider him to be.
The opening episodes introduce viewers to Bojji as a young kid. He loses his mother soon after and wanders around aimlessly. The people around him feel no loyalty towards their king-to-be and feel free to insult Bojji at every given opportunity.
But Bojji, the courageous son of the late King Bosse, decides to put on a brave face and endure everything silently as he is determined to make his dead father proud.
Bojji's acceptance within his own family differs significantly. While his father motivated him to train hard to be a warrior, his evil stepmother, Queen Jiling, thinks he is good for nothing. Instead, she promotes her son Daida for the kingship, starting a bitter rivalry between the stepbrothers.
The rivalry soon ensues into a fierce battle of swords, with Bojji clearly outsmarting his half-brother. In steps Domas, the swordmaster who is Bojji's trainer and the only person who can communicate with him in sign language. But Domas leans towards Daida.
He declares Bojji's actions are unlike a king and forces him to play by Daida's rules. As a result, Bojji gets beaten hands-down. Domas's actions appear to be dubious. He seems to be favoring both Bojji and Daida at the same time. Where his true calling lies will only be revealed as the series progresses.
Amongst all this drama is another character, Kage, the last surviving member of an assassin clan. Kage has known Bojji since childhood and can somehow understand the thoughts Bojji fails to express.
How their relationship blossoms and how Kage imparts the confidence Bojji so desperately needs is what the rest of Ranking of Kings is all about. Watch Ranking of Kings streaming live now on Funimation.
About Funimation
Several online platforms stream anime, but none are perhaps as famous as Funimation. The Sony-owned and US-based Funimation was founded in the 1990s to produce and distribute Japanese anime in the US.
The company started its streaming service a little more than ten years ago. Today, it features more than 600 old and new titles, either dubbed in English or Japanese with English subtitles.
Funimation offers its subscribers a choice of three plans, with a 14-day trial period available for premium plans.
Funimation supports a host of streaming devices and allows users to stream videos on multiple devices simultaneously. Funimation is only available for access in the US, the UK, Canada, Australia, New Zealand, and Ireland.
Can I Download Funimation Videos for Offline Viewing?
Yes. Just like its competitors, Funimation, too, allows users to download videos for offline viewing. However, the Funimation download service does not come without its share of shortcomings.
If you are subscribed to the $5.99/monthly or the $59.99/yearly plan, you will not have access to the download functionality.
You can only download a maximum of 13 videos per device.
Not all Funimation videos are available for download.
You would not be able to share the downloaded videos with other users or devices.
You cannot download multiple videos simultaneously.
It is precisely to provide users the freedom from these issues that the MyStream Funimation Downloader was introduced. Let's learn more about it.
About the MyStream Funimation Downloader

As stated earlier, the MyStream Funimation Downloader is an excellent tool for downloading Funimation videos without worrying about the restrictions imposed by the Funimation download functionality. The MyStream Funimation Downloader provides several benefits, including:
1. Download videos in 1080p Picture Quality with AAC Soundtrack
The MyStream Funimation Downloader lets users download their favorite Funimation videos in high-quality 1080p picture resolution and AAC sound quality.
2. Funimate to MP4 Format
The MyStream Funimation Downloader lets you funimate to MP4 format. It means you can download Funimation videos and save them in the universally-supported MP4 format so that you no longer have to search for compatible devices.
3. Download or Remux Subtitles
The MyStream Funimation Downloader provides you the freedom to download subtitles separately as .srt files or include them directly into the downloaded videos.
4. High-Speed Batch Downloads
With the MyStream Funimation Downloader, you can download multiple Funimation videos or all episodes of a season at high speeds instead of wasting time downloading them one by one from the Funimation app or website.
5. Download and Save MetaData
The MyStream Funimation Downloader allows ardent anime fans to download and save metadata, such as the title, plot, cast, genre, etc. so that they can build a library of their favorite Funimation videos.
How Can I Download Funimation Videos Using the MyStream Funimation Downloader?
It is easy to download Funimation videos using the MyStream Funimation Downloader. All one needs to do is follow the three simple steps listed below:
Step 1 – Open Funimation with the MyStream Downloader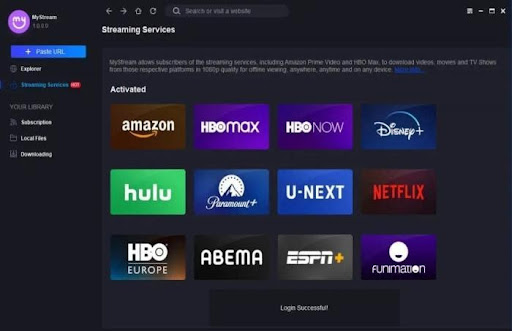 Download and install the MyStream Downloader from the official webpage. From the menu, choose 'Funimation' and launch the application.
Step 2 – Browse and Select the Video(s) to Download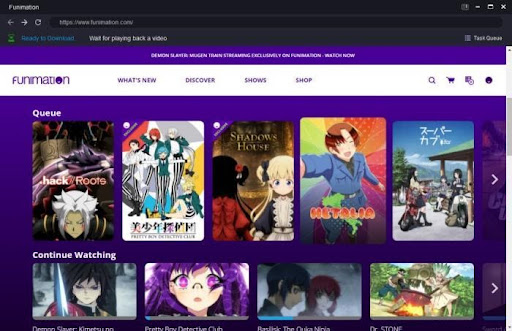 Log in to your official Funimation account to access the different videos available for download. Select the video(s) you want to download.
Step 3 – Click 'Download Now' to Begin Downloading
Once you have selected the video(s) to download, customize your audio and subtitle preferences. After this is done, click on the 'Download Now' button to begin the download process.
You will see your video downloading in the background. Meanwhile, you can continue watching the video online or browse and choose other videos to add to the download queue.
Pricing
The MyStream Funimation Downloader is not only loaded with features but also does not burn a hole in your pocket. You can either subscribe to a monthly or a yearly plan. The monthly plan costs $19.90 only and includes one license for one PC.
The annual plan costs only $59.90 and includes one license for 2 PCs. Both the subscription plans allow users to auto-renew their subscriptions and cancel anytime.
Both plans offer free updates to download and enjoy new features, working-day 48-hour customer support, and a 14-day money-back guarantee.
Other Supported Services
Besides Funimation, the MyStream Video Downloader allows users to download their favorite TV shows, movies, and other videos from leading online video streaming platforms like Disney Plus, Amazon Prime Video, HBO Max, Netflix, Paramount Plus, Hulu, U-Next, ESPN Plus, YouTube, and more than 1,000 streaming websites.
Parting Thoughts
Funimation is an online streaming platform solely dedicated to anime. It caters to the entertainment taste buds of young kids and adults alike with its extensive collection of classic and next-gen anime videos. Because it streams only anime, Funimation naturally has a smaller viewer base than platforms like Disney Plus, Netflix, and others that offer entertainment spanning different genres.
Therefore, it comes as a surprise that Funimation still does not choose to remove the restrictions placed on its download functionality despite a smaller viewer base.
Who knows, it might just help it garner more subscriptions. But until that happens, the MyStream Funimation Downloader is the perfect answer for all the problems associated with the Funimation download service.
Subscribe to the MyStream Funimation Downloader to download and enjoy Ranking of Kings and more such exciting Funimation anime videos.