Modern problems call for modern solutions! Technology has taken over us in the past decade, and it is impossible to think beyond it. Moreover, it is better to find exceptional resources to work diligently with the changing times. One essential functional tool in this scenario is an efficient email client that can also work as an organizer. It must be responsible for acting as a private secretary, reminding you of even the minute task on your list.
There can be nothing better than EssentialPIM to provide you with the facility of an email client that also helps you keep organized throughout the day. Whether it is platform experience, neatly arranged modules, or ease of use, EssentialPIM aces them all.
Please have a look at all its modules and decide for yourself to avail this utility at the earliest.
Email – An Umbrella for All Your Mail Accounts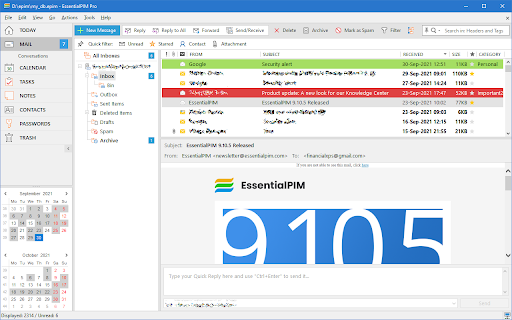 Being a business person or an employee keeps you engaged in checking emails from various clients throughout the day. EssentialPIM helps you keep a tab on them via the 'All Inboxes' folder holding emails from multiple accounts under one umbrella. With the PGP encryption facility and Exchange, POP, and IMAP protocols, you can be sure of email security at any time.
There are multiple view modes to organize your mails via classic, wide, vertical, Etc. You can create manual or automatic archive settings, so your essential emails have not vanished after some time. You can also assign emails from different senders to various categories or tags to identify them instantly as per your need.
If you wish to convert an email to an appointment, task, or note, you can right-click on the message and use the 'Convert To' option.
Calendar – Gives a Clarity of Your Availability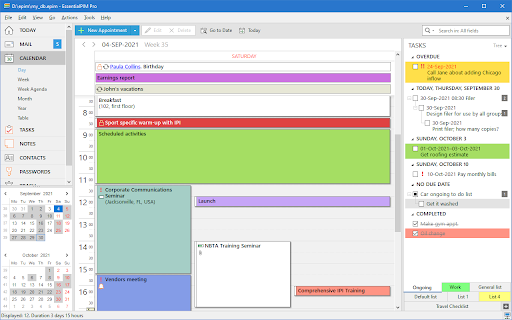 There could be a lot of important events lined up for the day, whether you are an employee or an entrepreneur, so why not manage all of them with the efficiency of the calendar module of EssentialPIM!
It allows you to view your day streamlined as a Day or Week schedule, and you can switch to a Month and Year schedule anytime. It gives you an overview of your occupancy on different days without scheduling two critical meetings on a single day. If you are unsure of a particular date or day, you can jump to it directly by using the Go-To-date feature.
Tasks – Keep Your Responsibilities Sorted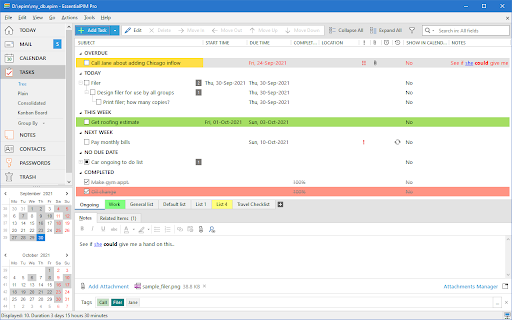 Have a lot of employees in your company, and cannot keep track of each one's contribution or productivity? Well, EssentialPIM can assist you in this too. You can monitor the progress of any work under tasks module through options like start and end date, tasks completion in percentage, etc. Along with this, if your employees cannot finish the task the same day, they get automatically shifted to the next day until the job is taken care of. It helps you keep their efficiency in check.
You can also view your tasks in different views as Kanban board, Tree, Consolidated, etc., along with grouping them based on start date, end date, etc. Moreover, the upcoming tasks are available in the other modules through Sidebar, so you cannot miss them. If you have to convert any job into a note, you can do it directly here without switching modules for the same.
Notes – Helps in Jotting Down Important Information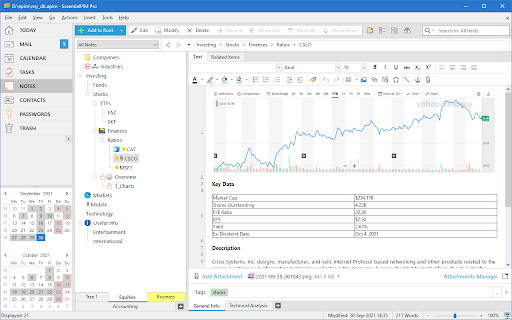 Earlier, people used to go out for meetings carrying pocket diaries or pens to jot down important points of a discussion, and this habit created trouble when the log went missing. However, with EssentialPIM now, you need not worry about your notes as they are safe and not on the verge of being lost or damaged.
If you use a shared device, you can turn your notes into a read-only mode as this will prevent any changes from anyone. If you want to share the database with your employees, turn the required privacy settings to public.
Suppose you are fond of revising important points right before meeting an investor, another businessman, or another significant person; you can make sticky notes for the same. You can also group similar sticky notes to find them all together on your desktop screen. If you wish to add details like date or time to these notes, you can add them too for clarity. EssentialPIM also lets you convert your notes to appointments or tasks at any given time.
Contacts – Assists to Manage Your Connections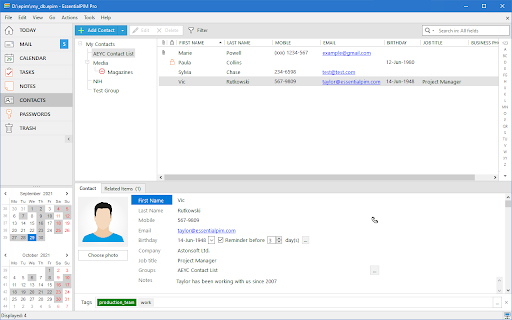 Have a habit of meeting many people daily but cannot memorize their contact details and names? Well, with EssentialPIM, you can save their name and contact no. along with other essential elements like email ID, birthday, etc., to send wishes and messages timely. Suppose you like to keep your contacts sorted into different groups like personal, work, business, etc. EssentialPIM provides you with this option as well.
Passwords – Keeps Crucial Information Safe
These days almost every app or service needs passwords to keep your data safe. However, with too much secrecy, there is a chance of jumbling up the passwords. With EssentialPIM, you get the auto-type feature for web forms and the ability to create complex passwords such as patterns, etc. It also provides you with a smooth retrieval of such complex passwords seamlessly.
Final Words
EssentialPIM can be your best buddy for email management, and it is travel-friendly too. You can store it on a USB flash drive without needing a laptop to manage your tasks. The apt synchronization and integration facility provided by EPIM Cloud or third-party services like Google, iCloud, Dropbox, CalDAV, etc., helps in data management.
With the EssentialPIM Pro version, you get a free trial of 30 days to test this fantastic email client. EssentialPIM will never disappoint you with its performance, whatever the case may be.