The article depicts the unique ways by which a husband can track his wife's phone without even letting her know that. It will tell how these apps can help one.
Ways that will help one to track his wife's phone without letting her know
Husbands usually ask this question that how to track my wife's phone. To answer this there are dozens of apps out there that can be used to track your wife's phone. Such apps are used to spy on a person so that you can see the activities on her device.
These apps just act like surveillance cameras that can help one in the daily lives as well. Such apps can be used by parents to keep an eye on their children as well and sometimes they are used to track lost phones as well. These days' people rely on apps more than the spy agency because it is unsafe and costly.
When one searches the internet there come certain options of tracking devices that one can use. Through this article one will be clear that which apps can be used by you to keep an eye on your wife's phone:
1. uMobix- The Best Undetectable Phone Surveillance App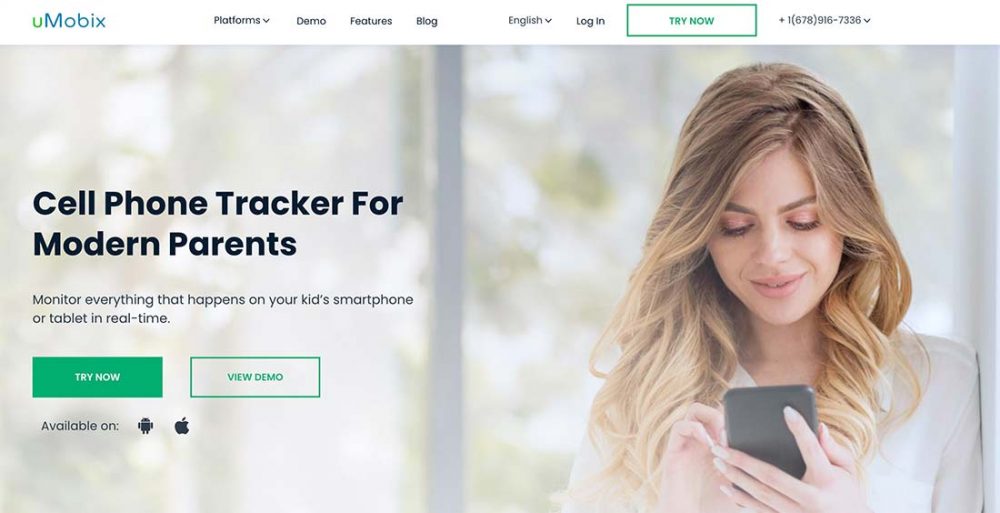 Spying on your wife's phone is no more an impossible task. This application can remove all the problems that come in the way of spying. One need not be a tech-freak to understand and operate this app. A normal man can easily do this without any problem.
The app uses the best monitoring resolution to provide its users with the best kind of services. In today's life, mobile phones are the ones that hold most of our information. The application helps in tracking the location and activities of a person that is using that phone. The app can be used by both Android and an iOS user as the app is compatible with both.
The application tries to get every data to you that are there on your partner's phone. The technology that is used by the app is synced with your wife's phone and gets all the information out of it. The app is safe for one to use as if it is logged out then the whole data remains in that. No one can get access to it so it can be kept safe.
Unique Tracking Features Of uMobix
Here are some features that are offered by the application:
A. Tracks Location
The application will help the husband in tracking the location of his wife. It will update the husband about the location of the wife.
uMobix will even tell if she is moving. It has GPS tracking that helps in doing so. Not only the location of the wife, through this application one can track the location of children or even the employees.
So, one will automatically know where his wife is and if he feels that what is she doing there then one can go and check there physically.
B. Tracks Text Messages
One can track text messages through this application as well. One can see what communication she is doing and with whom.
Even if the messages are deleted one can still check that what the messages were. One can also see the multimedia messages that are shared by your wife's phone.
If one finds any conversations that indicate that she is cheating on him then one can confront her and show her the proofs as well. Keeping an eye on the messages will let you know about her daily conversations.
C. Tracks Call Logs
One can get access to the call logs as well. One is not limited to the text messages but one can check the call logs as well. The app shows the number, duration of the call, and time of the call.
One can find through this who does she talks to. One will get a clear hint that his wife is cheating if she talks frequently for long hours with someone else behind your back. One will get clear cut clarity from her call logs.
People usually ask that to track my wife's phone do I need to have her phone near. The answer to it is no, one can easily track it from anywhere.
The spy applications do other things as well such as monitoring her online activities, tracking messaging applications, tracking schedules and calendars, and giving access to multimedia files.
Through all this one can keep an eye on what she is doing and what she is up to. If one is sure about the cheating then only one should confront his wife and the surety can be given by the spy application.
2. SpyBubblePro- The Best Way To Catch A Cheating Spouse
One is never satisfied with a single option so another option that can be used to track my wife's phone is this one. One can keep an eye on his wife whether she is cheating on you or not.
It updates you about her location, messages, call logs, schedules, and many other things that can help you know that is there something different from her usual routine.
Features Of SpyBubblePro
Here are certain features of this application that makes it appropriate for the users:
A. Spying The Social Media-Whatsapp/Facebook
The social media platforms such as Whatsapp and Facebook are the ones that are used by people majorly to talk to the other person.
So, if one wants to keep an eye on his wife then spying on these accounts is important. This application will help one to spy these and let know better details.
B. Compatible With Both Android And iOS
People can have any type of smartphone the Android or iOS but one should not worry about the compatibility to track my wife's phone. The application is compatible with both the users so they will not face any problems.
C. Helps In Finding Hidden Multimedia
There come different applications where one can hide photos or videos. So, the application can help one with finding such multimedia from the device as well.
If she is hiding something it means she has something to hide. So, one will be clear if he finds something that his wife is cheating on him.
D. Finds The Location
When one uses the application to track my wife's phone the location finder helps in a great way. One can easily know where his wife is.
One will still know her exact location even if she is lying. One can just call her to see if she lies about her location.
If she does then it means she is hiding something. If she tells the truth then there are fewer chances that she is cheating on you.
Conclusion
So, both the applications will help one to spy on their wives. Blaming someone only based on doubt can lead to divorce so one should confirm the doubt first and then confront her.
One will be doubtful when she starts acting differently than normal. If there is an app for all this then it does not mean that one spy on his wife all the time. One should only spy when he doubts her.