Are you tired of constantly receiving Instagram notifications? Do you find yourself getting distracted by them throughout the day? Do you want to turn off Instagram Notes quickly?
While Instagram doesn't offer a direct option to turn off the notes feature, Fortunately, Instagram offers a variety of options to customize your notification settings.
Table of Contents
Types Of Instagram Notes Want to Turn Off/Mute:
This is a very important question about which type of Instagram notification you want to mute or turn off because many people are confused between app notifications and follower notifications.
Instagram offers several types of notifications to keep you updated on activity related to your account.
Here are the most common types of Instagram notifications:
1. Followers Notifications:
Here are some examples of Instagram followers/profile notifications:
Likes: When someone likes one of your posts, Instagram will send you a notification.
Comments: If someone comments on one of your posts, you will receive a notification.
Mentions: If someone mentions you in a comment or post, Instagram will send you a notification.
Direct Messages: When you receive a direct message from someone on Instagram, you will receive a notification.
Follow Requests: If someone requests to follow you, Instagram will send you a notification.
Stories: When someone views one of your stories, you will receive a notification.
2. Instagram App Notifications:
Here are a few examples of app notifications:
Live Videos: If someone you follow starts a live video, you will receive a notification.
IGTV Notifications: When someone you follow posts a new video on IGTV, you will receive a notification.
Shopping: If you have a shopping account and someone tags your product in a post or story, you will receive a notification.
By understanding the types of Instagram notifications available, you can better manage and customize your notification settings to fit your needs.
---
How to Turn Off Instagram Notes
If you are one of those who want to turn off or mute your Instagram notes permanently. Whether some of them are too funny to make your mood light, but also if you want to turn them off.
There are 2 quick ways by using them you can turn off/mute your insta notes:
1. Mute In-app Notes From Settings:
This is the easiest manual procedure to mute or remove someone's notes forever from your inbox. Follow the steps below-mentioned to implement it.
Step – 1. Start the Instagram application (Android, iOS) and navigate to the DM section by sliding the screen to the right.
Step – 2. On the next screen, Long-press the desired note, Which you want to Mute.
Now There are three options on Android Phones:
Mute Note
Report
View Profile
then click on the "mute notes" button to block and deactivate all future notes associated with the chosen Instagram account.
Step – 3. Confirm Mute Notes.
Make sure you confirm it by pressing Mute Notes to end the process. If for whatever reason, you do not wish to proceed, simply select the Cancel option and cancel out.
2. USe Insta Profile Settings to Mute Notes on Instagram
This method is only applicable to the accounts that you follow.
Step – 1. Explore the Instagram profile of an individual.
Step – 2. Select the Following option –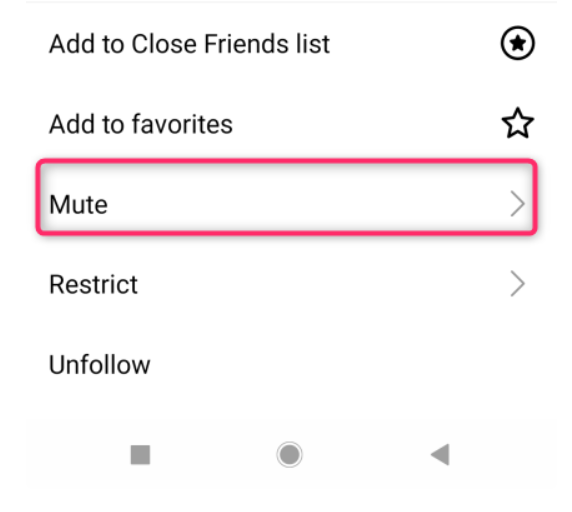 Add to favorites,
Mute,
Restrict,
Unfollow
Then, click upon then the "Mute" option.
Step – 3. In the next step It gives you three choices: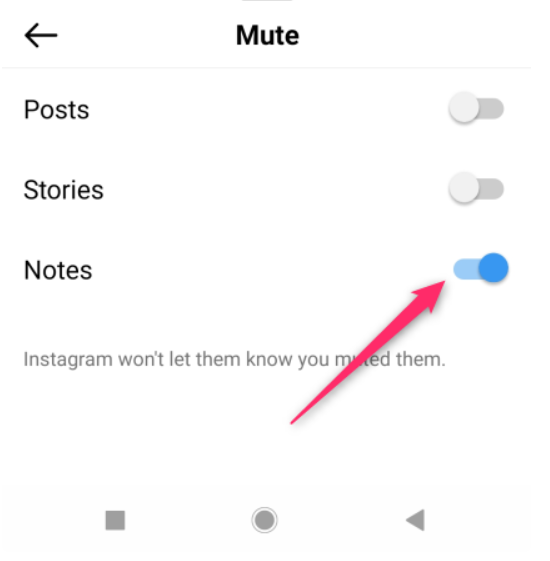 Toggle ON the Notes option to hide all the future notes posted by that particular person. That's it!
---
Reason To Turn OFF/Mute Your Insta Notes:
Here are a few reasons:
Minimize distractions: Notifications can be distracting and disrupt your workflow or focus.
Save battery life: Constant notifications can drain your phone's battery.
Manage social media usage: Turning off notifications can help you limit your time on social media and prevent overuse.
Privacy concerns: If you're worried about others seeing your notifications, turning them off can provide more privacy.
Just To Sum Things Up…
Whilst Instagram Notes cannot be turned completely off your device, these methods allow you to mute their presence or use an older version if the Notes don't suit your taste. So that concludes this post; for more tips and tricks about Instagram stay tuned to N4GM or follow us on Twitter!