Urdu Bio For Instagram – One of the best impressive ways to express yourself in front of your loving ones, seniors, and anyone who can visit will be mesmerized after seeing your Instagram profile.

Anyone who can see your social profiles like – Telegram, Twitter, and Instagram in Urdu Bio, Urdu images captions, etc… will fall in love with your poetry and your social activities.
If you want to express your sadness within your deep heart, your Urdu poetry captions with sad images are the best way to do so and share your feelings, If you are looking for Instagram Captions In Urdu Copy And Paste them for pictures and other purposes.
In this post, we will provide you Urdu Bio's, Short Captions, One Line Captions, and Urdu Poetry Captions, by copying and pasting them you can not only grow your Instagram channel but also express your views to your beloved ones.
We frequently update these with new ones, so you can visit this post regularly and I hope you will definitely get some good stuff from here. Enjoy Reading!!!…
Urdu bio for Instagram
For making your Instagram popular and looking different from others if you want to grow your Instagram account in Urdu Shayari's, Captions, and Heart-Broken Images with Urdu Captions, then first you should need to make your Instagram Bio accordingly by using the lines given below:
More Urdu Attitude Bios You can use in your Instagram Bio section, by copying these directly in Urdu:
1. MR. perfect – مسٹر. کامل
2. Respect girls – لڑکیوں کی عزت کریں۔
3. No gf Q ki abhi ma to ma chota hu na – نہیں جی ایف کیو کی ابھی ما سے ما چھوٹا ہو نا
4. LiFe GiVeS Me UnliMiTeD HapPiNesS – لائف مجھے غیر محدود خوشی دیتا ہے۔
5. ALONE but Always Happy – تنہا لیکن ہمیشہ خوش
---
50+ Best Urdu Captions For Instagram
In this section, we will cover 50+ best Urdu captions ever for you which you can use as it as whenever you upload any image on your Insta account.
1. 2 Lines Urdu Poetry Captions For Instagram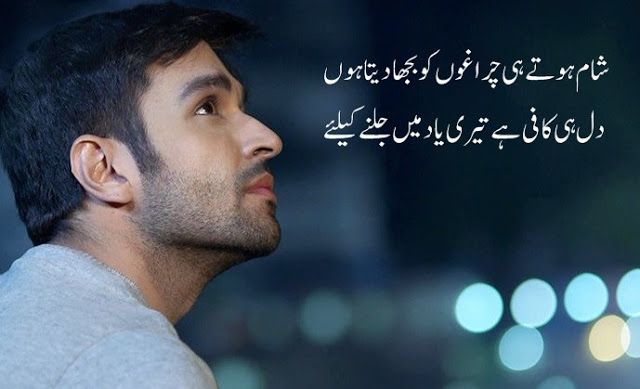 Here are the best Urdu Poetry Captions For You…
Adhy rasty se palatny ki aziyat kia hai tum nahi samjho gay -

 آدھے رستے سے پلٹنے کی اذیت کیا ہے تم نہیں سمجھو گے
---
Kon hota hai Bury waqt ki halat ka shareek
Marty dam ankhon ko bhi dekhai ha ke phir jati hain –
کون ہوتا ہے بُرے وقت کی حالت کا شریک
مرتے دم آنکھوں کو بھی دیکھا ہے کہ پھر جاتی ہیں
---
Toot To Hum Tab Jate Hai ,
Jab Hamare Dard Ki Khabar Gairon Se Li Jati Hai !!
ٹوٹ تو ہم تاب جاتے ہیں،
جب ہمارے درد کی خبر گیروں سے لی جاتی ہے !!
---
Dard Ne Dil Se Baat Karke Kaha,
Ja Bemaut Mar Ab Wo Tera Na Rha !!
درد نی دل سے بات کرتے ہیں،
جا بے موت مار اب وو تیرا نہ رہا!!
---
Koi to rakhy museebat me hath kandhy Par
Koi to ho jo mere saath dair tak jagay..
کوٸی تو رکھے مصیبت میں ہاتھ کاندھے پر
کوئی تو ہو جو مرے ساتھ دیر تک جاگے
---
Kahani ke ikhtatam se zara pehle ay musanif
Aik bar hi sahi usay mera likhna.
کہانی کے اختتام سے ذرا پہلے مصنف
ایک بار ہی سہی اُسے میرا لکھنا۔
---
Mehboob agr kahy ke Mar jau
To tum Pa lazim hai ke Mar jau
محبوب اگر کہے کہ مر جاؤ
تو تم پہ لازم ہے کہ مر جاؤ
---
Faslon se agr muskrahat laut aye tumhari
To tumhen haq hai ke tum dooriyan bana Lo humse
فاصلوں سے اگر مسکراہٹ لوٹ آئے تمھاری
تو تمہیں حق ہے کہ تم دوریاں بنا لو ہم سے
---
Tere baghair dekha hai mehsoos kar ke
Jeenay me ab wo baat nahin.
تیرے بغیر دیکھا ہے محسوس کر کے
جینے میں اب وہ بات نہیں۔
---
Tum nahi ho dekho tanha guzarti hain shamen ye
Tumhari rah me bichaye ab thak si gayi hain aankhen ye
تم نہیں ہو دیکھو تنہا گزرتی ہیں شامیں یہ
تمھاری راہ میں بچھائے اب تھک سی گئی ہیں آنکھیں یہ
---
2. Urdu One Line Instagram Captions Copy Paste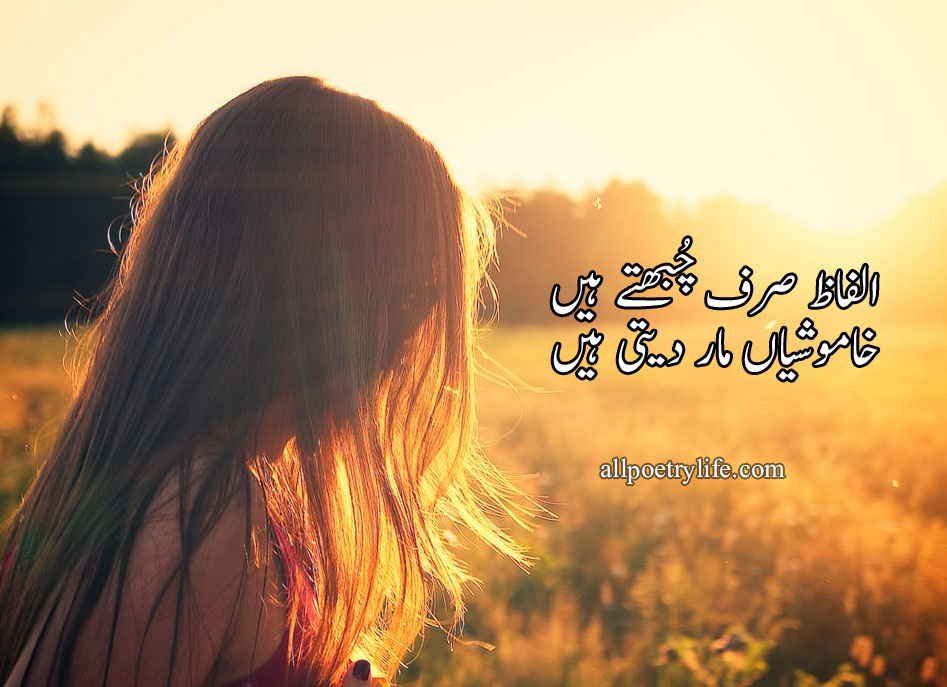 Bharosa Aik Rishtay Ki Sab Say Mehngi Shart Ha.
.بھروسہ ایک رشتے کی سب سے مہنگی شرط ہے
---
Bahar Se Hansny Wala Ye Larka Andr Se Chur Chur Hai
باہر سے ہنسنے والا یہ لڑکا اندر سے چور چور ہے
---
Ab Ki Bar Me Chand Se Ishq Karu Ga Ye Nazar To Aata Hai
اب کی بار میں چاند سے عشق کروں گا یہ نظر تو آتا ہے
---
Zindgi Kay Sary Mehngy Sabaq Sasty Log Hi Sikhaty Hain.
.زندگی کے سارے مہنگے سبق سستے لوگ ہی سکھاتے ہیں
---
Chup Chaap Bikharna Ha Tamasha Nahi Karna.
چپ چاپ بکھرنا ہے تماشا نہیں کرنا۔
---
Sukoon Dunya Ki Sab Say Mehngi Chez Ha.
.سکون دنیا کی سب سے مہنگی چیز ہے
---
Chor janay Waly Kia Jany Ye Yadon Ke Bojh Kitne Bhaari Hotay Hain
چھوڑ جانے والے کیا جانے یہ یادوں کے بوجھ کتنے بھاری ہوتے ہیں
---
3. Instagram Urdu Captions
Dil kabhi dharakta tha ab to ye tarapta hai
دل کبھی دھڑکتا تھا اب تو یہ تڑپتا ہے
---
Teri yad me guzar jati hai jisy log so kar guzarty hain..
تیری یاد میں گزر جاتی ہے جسے لوگ سو کار گزارتے ہیں
---
Ab Yeh Bhi Andaz e Guftgu Ha Koi, Jab Karo Dil Dukhany Ki Baat Karo.
.اب یہ بھی انداز گفتگو ہے کوئی، جب کرو دل دکھانے کے بات کرو
---
Tera Har Andaz Acha Ha Siwaye Nazar Andaz Karny Kay.
.تیرا ہر انداز اچھا ہے سوائے نظر انداز کرنے کے
---
Taluq mukhtasir tha, magr yad rahy ga umar bhat
تعلق مختصر تھا، مگر یاد رہے گا عُمر بھر
---
4. Short Captions For Instagram Pictures
Mujhy Ab Ulajhna Nahi Ata, Ab Main Haar Maan Jata Hon.
.مجھے اب اُلجھنا نہیں آتا، اب میں ہار مان جاتا ہوں
---
Kabhi to tumhari di hui takleefon ka hisab hoga
کبھی تو تمھاری دی ہوئی تکلیفوں کا حساب ہو گا
---
Ap To Bhool Gye Hum Say Yeh Bhi Na Howa.
.آپ تو بھول گئے ہم سے یہ بھی نہ ہوا
---
Muqabla Itna Barh Gaya Ha Keh Kisi Ko Apna Gham Sunao To Agay Say Double Suna Deta Ha.
مقابلہ اتنا بڑھ گیا ہے کہ کسی کو اپنا غم سناؤ تو وہ آگے سے ڈبل سنا دیتا ہے۔
---
Mohally Ki Masjid Main Jaty Nahi Aur Madina Munwara Main Marny Ki Duwa Karty Hain.
محلے کی مسجد میں جاتے نہیں اور مدینہ منورہ میں مرنے کی دعا کرتے ہیں۔
---
5. Best Romantic Urdu Captions For Instagram
Zindagi tujhse hai, ab mujhko ghum nahi, tu hai mere har khushi ka maqsad
زندگی تجھے ہے، اب مجھکو غم نہیں، تم ہے میری ہر خوشی کا مقصود
Life is with you, now I have no sorrow, you are the purpose of all my happiness
---
"Tere chehre se nazar nahi hat'ti, Nazare ham kya dekhein"
"تیرے چھرے سے نظر نہیں ہٹتی، نظر ہم کیا دیکھتے ہیں"
I cannot look away from your face, why should I look at anything else
---
"Dil ko choo jati hai ye aawaz, ye teri zulfo ke jhanko ki"
یہ آواز میرے دل کو چھوتی ہے، تیرے بالوں کی لہر۔
This voice touches my heart, the flutter of your hair.
---
"Mere dil ki dhadkan ka tu hi sathi hai, tu hi meri zindagi ka hasin safar hai"
"میرے دل کی دھڑکن کا تم ہی ساتھی ہے، تم ہی میری زندگی کا حسین سفر ہے"
You are the companion of my heartbeat, you are the beautiful journey of my life
---
"Jahan tum ho, wahan main bhi hoon"
جہاں تم ہو، وہیں میں بھی ہوں
Wherever you are, that's where I am too
---
"Khush raho har pal, Zindagi ka safar hai yeh"
"خوش رہو ہر پال، زندگی کا سفر ہے یہ"
Stay happy every moment, for life is a journey
---
"Dil ko samajhna hi muhabbat hai"
دل کو سمجھنا ہی محبت ہے۔
Understanding the heart is love
---
"Zindagi ek khawab hai, aur khawabon ki raah mein hum safar hai"
زندگی ایک خواب ہے، اورخوابوں کی راہ میں ہم سفر ہے
Life is a dream, and we are travelers on the path of dreams
---
"Har kisi ke liye kuchh khas hain, humne tujhe dil mein basaya hai"
ہر کسی کے لیے کچھ خاص ہیں، ہم نے تجھے دل میں بسایا ہے
Everyone is special in their own way, but we have placed you in our heart
---
"Yaadon ke saaye mein hi khush rahna chahte hai"
یادوں کے سائے میں ہی خوش رہنا چاہتے ہیں۔
We want to stay happy in the shadow of memories
---
Conclusion:
Using Urdu captions on Instagram is an excellent way to showcase a rich and vibrant culture while adding a personal touch to your posts. Whether you're looking to inspire, entertain or express your love.