Card games are amongst the most popular games. Besides being fun and engaging, they create suitable stimuli that promote brain health. Usually, older adults enjoy card games more than other demographics as such games demand no high physical activity.
These games also act as an aid for enhancing both short-term and long-term memory power. And what better game than blackjack to use your observation skills and win big sums of money? Here's a comprehensive guide on blackjack to help you increase your odds of winning.
1. Blackjack Or 21
Blackjack is an American variant of the well-known banking game known as Twenty-One. It is a comparing card game played between one or more players and dealers. The players, however, do not compete with each other.
The game only demands a standard deck of cards with the jokers removed. The values of each card are as follows:
Cards 2 to 10 are worth their face value
King, Jack and Queen are worth 10 points each
Aces are worth 1 or 11 points
The agenda behind the game is hitting the jackpot by obtaining a total score of 21 without getting busted.
The Players Win The Game When Any Of The Following Situations Occur:
Players score 21 on the first two cards without the dealer hitting blackjack
Players receive more points than the dealer without getting busted (count exceeds 21)
The dealer gets busted drawing additional cards, and the scores exceed 21
Since the dealer also relies on luck, there is a parallel advantage for the dealer and players alike.
2. Playing At Online Casinos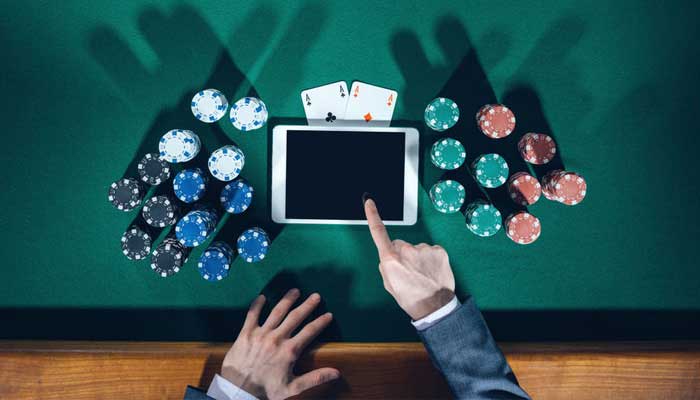 Physical limitations or distances are no longer hurdles that reduce the zeal of gaming. Players can experience the same thrill and gaming pleasure of physical online casinos from the comfort of their homes through online casinos. With technological advancements taking huge leaps, iGaming casinos are one of the most popular and fastest-growing sectors. 
Now one need not be dejected about being unable to step out to play their favourite game. With innovation and interface upgrades, players can access the games either through their PCs or phones. Online gaming developers have strived to put forward the best deliverable that synchronises with the physical setting of land casinos without compromising on security.
Most casinos offer SSL data encryption that elevates the overall safety of the websites. Keeping pace with the digital evolution, casinos also utilize cryptocurrencies such as Bitcoin, Ethereum, Litecoin, Dogecoin, and BitcoinCash as viable (and the most prompt) payment methods.
However, players are advised to verify the authenticity of the chosen online casino through online review platforms for unbiased opinions. They can further determine credibility through gaming licenses offered by reputed platforms.
3. Modified Blackjack Rules Of Mild Cognitive Decline
Mild cognitive impairment interferes with a person's memory, judgment, and thinking capacities. Thus, the general rules of blackjack might prove to be more complicated than fun, as they should be. However, these card games can assist the person as they involve some specific cognitive exercises. 
Here is a compilation of the modified rules of blackjack devised by experts that can still make the game just as fun.
One-layer version rules:

Players can distribute two cards to themselves

If the points are less than 21, they can stop themselves and decide whether they should pick an additional card or not.

If the points exceed 21, then the players get busted
Two-player version rules:

Distribute two cards among the players using the 'one for me, one for you' technique.

Each player decides if they want to pick an additional card or not

The one that is closest to 21 points without getting busted wins the game.

Players can also improvise the games by placing small wagers.
Final Thoughts
'Brain training games', as researchers call them, are essential to train the mind and keep it sharp. Though they do not substantially inhibit the brain's aging process, they help to keep your faculties sharp with mentally challenging games such as card games, board games, etc. 
Blackjack or 21 is a popular and relatively simple game that everyone knows. Since the game involves simple activities that include judgments of taking another card or not, shuffling the cards, and accomplishing simple math calculations, blackjack offers the quintessential balance of mental exercises with fun.