Businesses making use of legacy Dynamics systems such as NAV often require data integration assistance to help keep their ERP and CRM solutions working optimally.
With help from companies like Rapidi, which specialize in data integration and replication, an organization can ensure that they're getting the most out of their applications and software.
RapidiOnline is a flexible yet robust data integration solution which circumvents many of the common problems endemic to custom data integration projects.
What Does it Mean for Data to be Integrated?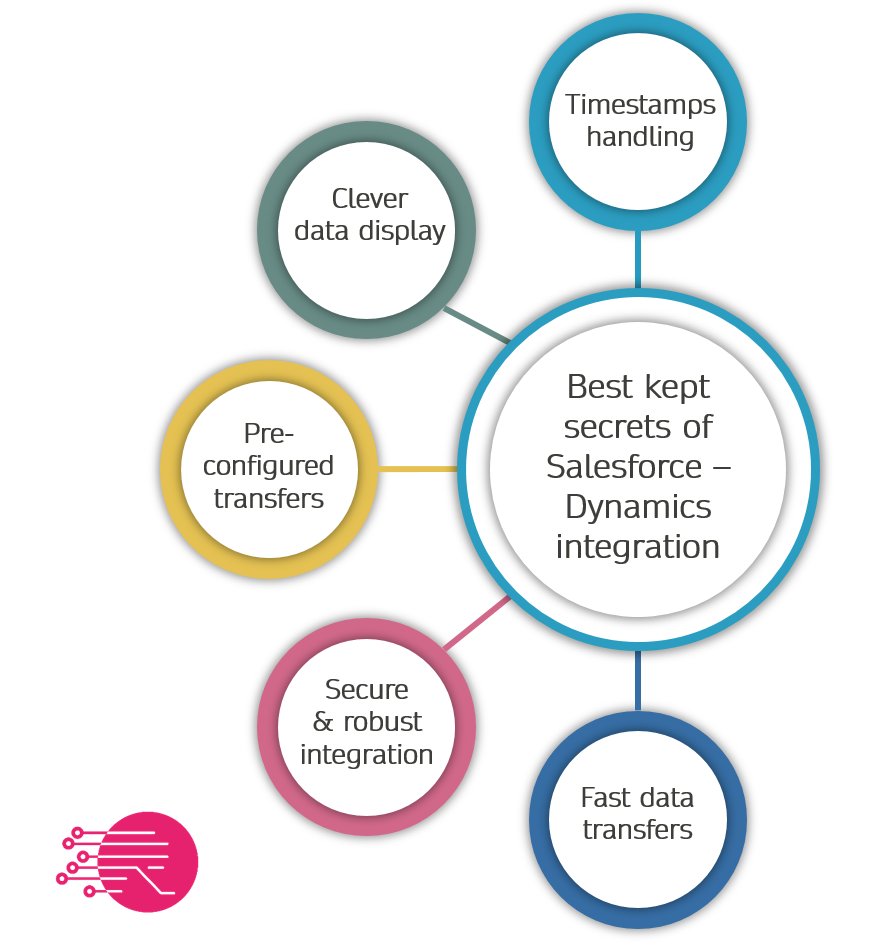 <Image Source: rapidionline.com>
There's no one way to approach a Dynamics NAV-Salesforce integration project, but data integration itself generally involves a few universal components and processes. All data integration procedures involve servers, often a master server and associated nodes and data sources.
When software is integrated, the server collects data from sources included in the integration, extracting and consolidating them into a unified data set.
In essence, data integration is the process by which normally-disparate applications and software "talk" to one another, pooling their data into a single point of truth from which an organization's team members may reference.
When a Dynamics NAV-Salesforce integration project is successful, a customer's invoices and payment history can be transferred automatically from Salesforce into Dynamics NAV. When any deals are closed in the CRM, they are instantly updated as sales orders in the integrated ERP.
Proper integration massively cuts down on hand-data entry and analysis, freeing up your employees to focus on more important tasks and projects that require a creative, human touch.
What Makes Data Integration So Necessary?
Any business past a certain size will benefit from Rapidi's data integration technology. CRM-ERP integration is the way of the future, and any businesses slow on the uptake will no doubt be left behind in today's hyper-competitive market arena.
Without integration, an enterprise's sales team may find themselves lacking mandatory information pertaining to a product they are attempting to sell or promote.
Unintegrated software might mean dealing with a lack of contact and account aggregation; staff in the field may find themselves lacking critical information such as a customer's credit limit information because it is stored in the software they don't have access to.
Data Integration is Pivotal to Keep Your Company in the Game
Proper Dynamics NAV-Salesforce integration is crucial for a business's success and sustainability. The cohesive, 360-degree view enabled by a successful data integration project streamlines and simplifies analytical business processes.
Consolidated information is much simpler to parse; integrated data minimizes the human error that is more likely to emerge as a result of hand-done data prep.
Optimized data integration not only saves time by eliminating horizontal redundancy like double-data entry, but boosts employee efficiency; when team members have access to the most accurate, up-to-date, and relevant data, an organization can rest assured that they're basing their operations and business decisions on reliable information.
When an organization invests in a data integration solution, they're investing in their future growth.
A Real-Life Dynamics NAV-CRM Integration Success Story
Xsens Technology is a pioneering force in the field of motion-tracking products. They recently chose Rapidi to lead their Dynamics NAV-CRM integration project, as they were looking for a capable, experienced, and professional team to spearhead this daunting task.
The COO of Xsens, Jeroen Weijts, quickly became an ardent fan of Rapidi's, noting that Rapidi offers a wide variety of preconfigured solutions as well as flexibility and customization when necessary.
Weijts complimented RapidiOnline—Rapidi's proprietary integration technology—for its intuitive user interface and seamless fluidity; RapidiOnline was up and running, with Xsen's team members were fully trained, all in a matter of days.
Not only that, but Rapidi strives to go above and beyond in all regards, including customer support, so Rapidi's team is on-call to offer support or field questions—anytime, anywhere. That's part of why Weijts recommends Rapidi to any organization looking to embark on a similar data integration project.
What Company Can I Trust to Lead My Integration Project?
When companies need reliability, flexibility, security, and professionalism, they turn to Rapidi. With nearly thirty years pioneering in the realm of data integration and replication, Rapidi can make short work of even the most daunting integration projects.
RapidiOnline is a Microsoft-certified solution, and Rapidi's team members are Microsoft experts, able to integrate any existing Dynamics product, from the latest version of 365, all the way back to GP.
In a matter of days, an organization's integration project can be completed and all requisite staff fully trained by Rapidi's team. Plus, RapidiOnline's subscription model ensures that any organization making use of it has access to the latest and best version.
RapidiOnline has worked tirelessly for decades, crafting its proprietary technology according to best business practices. RapidiOnline works flawlessly between Dynamics NAV and Salesforce, as well as nearly any popular ERP and CRM. Don't put off that data integration project for even one more day—contact Rapidi today. Your bottom line will thank you.