The entertainment industry is full of handsome men from around the world. Most of the time, the world has a tendency to be exceedingly biased, on the subject of gender.
You'll hear people talk about pretty and beautiful ladies, however seldom will you hear them comment about good-looking guys(handsome men).
Being handsome is not just about having a good looking face rather a man needs to be complete in body, looks and appeal.
Below is a compilation of the most handsome men in the world, a few of which have made history because of their looks! They're 10 of the world's most beautiful, good looking, hardworking and smart guys today.
But Who Are The Top 10 Hottest Men With Dashing Personality?
[su_note note_color="#567288″ text_color="#f7f6f5″]Here are the top 10 Most Handsome Men In The World[/su_note]
1. Tom Cruise
Tom Cruise is one of the most handsome man. Cruise is 56 Years Old now womens around the world are crazy for him. He is the most hottest men with his charming looks and dashing personality. And in our list he is on number Top among all 10.
2. Chris Evans
Captain America is sure not the strongest avenger but here in the real world, the actor is one of the handsome men. We just can't ignore the charming looks of Chris Evans. He is an American based actor. He is the second amongst handsome men.
3. V (Кіm Тае-hуung)
As time is passing K-Pop is becoming the next great thing. And if you are a fan of K-Pop, you must know about the boy's group BTS. Кіm Тае-hуung bеttеr knоwn bу hіѕ ѕtаgе nаmе V, іѕ а Ѕоuth Коrеаn ѕіngеr, ѕоngwrіtеr аnd асtоr. He is one of the members of this famous group BTS.
4. Omar Borkan Al Gala
Omar Borkan Al Gala is a poet, actor, an Iraqi-Emirati model, actor and photographer and internet sensation, one of the men who were too sexy for Saudi Arabia. He was actually asked to leave the Kingdom of Saudi Arabia because of being so good looking.
He became internationally notorious in 2013 after being expelled from Saudi Arabia supposedly for being "too handsome", a story that became viral on social media. Apparently, there was some chance of a mishappening because of his irresistible looks.
5. Godfrey Gao
Godfrey Gao, the most handsome man from Taiwan. Godfrey sure has a very attractive personality. He also a most stylish man, as he has some very good dressing sense.
6. Hrithik Roshan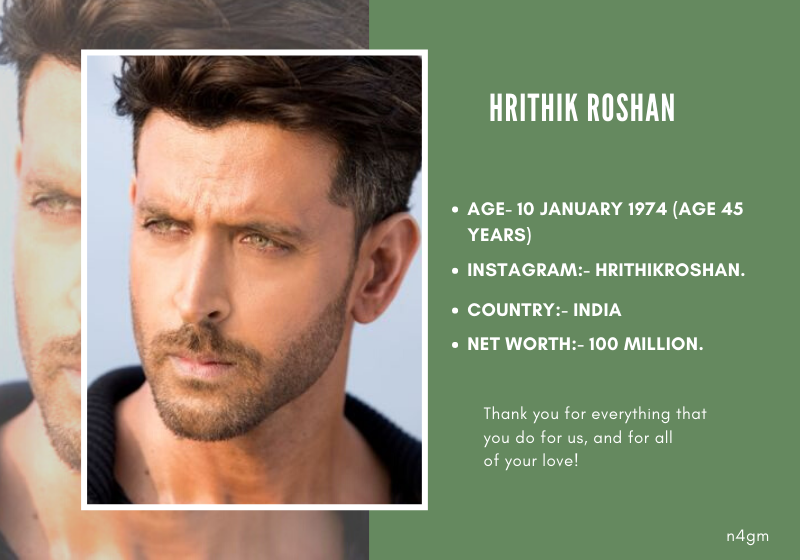 Apart from his good looks, he is an excellent dancer. One of the hottest handsome guy on this list from India. He is the son of Indian producer Rakesh Roshan.
He has portrayed a variety of characters and is known for his dancing skills. One of the highest-paid actors in India, he has won many awards, including six Filmfares, four for Best Actor and one each for Best Debut and Best Actor.
The very first movie 'Kaho Na Pyar Hai' was the big hit and boosted his career in Bollywood. He is one of the richest actors in Bollywood.
7. Robert Pattinson
Robert Douglas Thomas Pattinson is an English actor, model, and musician. After starting to act in a London theatre club at the age of 15, he began his film career at age 18 by playing Cedric Diggory in the fantasy film Harry Potter and the Goblet of Fire. He is also know as the Twilight sensation he sure makes women crazy for him.
8. Тоm Ніddlеѕtоn
Tоm Ніddlеѕtоn is a multi-talented, he is a mоdеl, рrоduсеr, аnd Ноllуwооd асtоr. Не іѕ оnе оf thе mоѕt gооd-lооkіng, сhаrmіng аnd hаndѕоmе guуѕ for sure. Most of us know him as the actor of Loki in Marvel's movies. Some other movies that he has worked on are Оnlу Lоvеrѕ Lеft Аlіvе and Міdnіght іn Раrіѕ.
9. Nоаh Міllѕ
He is a ѕtunnіng mоdеl аnd асtоr and соnѕіdеrеd аѕ оnе оf thе mоѕt ѕtуlіѕh аnd еlеgаnt асtоrѕ оf Ноllуwооd. He has worked in many TV shows and movie like А Fіѕhеr оf Меn, 2 Broke Girls, Wrасkеd, аnd Ѕех аnd thе Сіtу 2.
10. Henry Cavill
Henry William Dalgliesh Cavill is a British actor. He began his career with roles in the feature adaptations of The Count of Monte Cristo and I Capture the Castle.
Henry is known for films like Man of Steel (2013), Batman v Superman (2016), Justice League (2017). He is the newcomer in the list of most handsome man 2020. Because of his popularity, he deserves a spot on this list.