Salesforce Guidelines: Salesforce's business platform is meant to deliver all its features and capabilities to improve sales, operations, customer management, enterprise workflows, and a lot more down the line.
But being a user, how will you be able to reach out there? How can you bring your business vision to reality with Salesforce? How to make Salesforce work effectively for your business?
Businessmen ask many of such questions to the Salesforce consultants and experts. Those specialists offered many tricks and actionable tips to make Salesforce implementation and operation as smooth and productive as possible.
Businesses are now trying to find more innovative ways to maximize their returns on investments and resources. If you are also in a similar situation, we will discuss some expert tips and tricks to make the most out of the Salesforce platform.
Some of these tips may offer you strategic advice, whereas some other tips may help streamline the practical approach. However, all such advice compiled here is intended to help you to improve your business and optimize Salesforce implementation.
1. Starting With Salesforce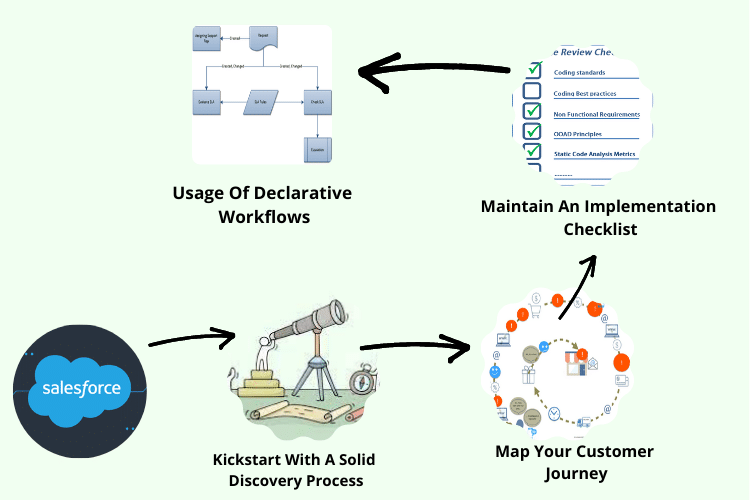 A. Kickstart With A Solid Discovery Process
Discovery is found to be one of the most underrated stages of software development. However, it is the most important one.
It may be easy to focus on the actual implementation, but it will not help you in the long run if you go for execution without proper planning.
You may also take the assistance of an expert consultant to do this professionally. It will help you better manage your time and resources. You can handle all aspects professionally.
B. Map Your Customer Journey
It is essential to understand your ideal customer journey to ensure that your service process offers an ultimate experience to the customers.
Salesforce syncing of data may offer you all the missing links to create a seamless experience for the customer journey. The business decision-makers can have an overall view of their data in Salesforce.
C. Maintain An Implementation Checklist
If you want to simplify the otherwise complex implementation process of Salesforce, it is ideal for maintaining an implementation checklist, which outlines all the critical components of Salesforce implementation. Having such a guideline will also help to keep everyone on the same page and act accordingly.
D. Usage Of Declarative Workflows
You can see that about 80 % of the features of the Salesforce platform can be easily created using a point-and-click workflow.
This approach is very useful in eliminating the need to maintain the features down the road. You may always try to create declarative workflows whenever possible to make this task easier.
E. Build The KPIs
As a rule of thumb, 'you can only improve what you can measure. You need to provide the executives with the needed insights to make them smarter and make real-time decisions based on the key performance indicators.
To access the numbers and do the analytics for decision-making, you may also bring historical data on Salesforce.
With this, you may compare the current performance and make projections. With Salesforce, your data and analytics are just a click away.
2. Data And Documentation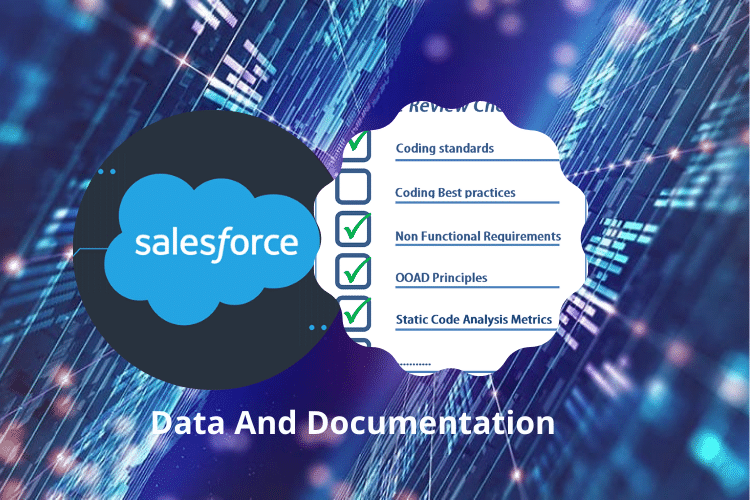 A. Get A Good Grip On Your Data
You may use various Salesforce tools as suggested by Flosumin in light of your requirement to understand the data being populated and what is not available so that you can effectively use this to improve the User experience.
B. Document All Your Core Business Processes
Salesforce also offers many tools that can be integrated into the suite as a Lucid chart, PowerPoint, etc. You can focus on conversations on business processes and have everyone on the same page to understand the data.
C. Incorporate Business-critical Information
It is not just about the data, but you also need to incorporate meaningful information, which can be aggregated before the data goes to Salesforce. This will help to add more value to the users in terms of decision-making. Tools to sync Salesforce historical data from the enterprise ERP can help managers and users compare the numbers and make informed decisions or readjust their strategies.
D. Optimize The Sales Pipeline And Process
Another key to success with Salesforce is making critical information available to the key members for insightful decision-making. Some best practices here are as follows.
You may select your inside sales team to generate a quote when an opportunity is closed won.
Another alternative is to try List Views on Salesforce to find the latest quotes.
The inside Sales team can also use Tasks on the Home tab of Salesforce to follow up until completion and send the chart.
Outside sales can also review the source information like quotes, sales orders, and sales numbers. In this way, they can see if any quote is sent or being approved by the clients.
3. Data Integration Tools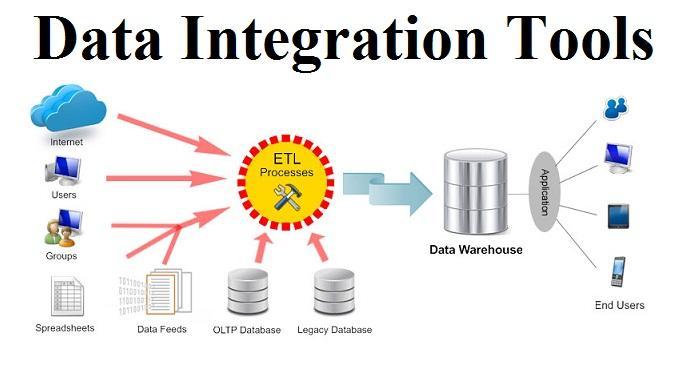 Salesforce also benefits the management people. They can instantly review the reports for all the tasks assigned, staffing workload, and sales numbers, etc., from anywhere, anytime, with just a click.
Once the implementation is done, you need to also look for ways to ensure the data on Salesforce, which is not just stored but can also be effectively used for decision-making in daily operations.
Here are some tips:
Create record types when you are setting up a new instance. Create a new record type for all records users will work with under this specific record type.
Make custom update – you may update the layout to include important fields for specific users to see all of these at a glance. Once you create a quick action update account, you may use it on other accounts as well.
Setup lead and opportunity parts- everyone may be allowed to celebrate their victories, so make sure you also do it. For this, you may go to the User Interface and Path Settings to enable it.
You may also try to utilize the Google Chrome extensions, data loading tools, user features, permission sets, lightning page components, description attributes, workflow rules, etc., to optimize your Salesforce experience.