Shopping trends have a turn for the good with the onset of digital technologies. Though conventional shopping still has its charm, online shopping is defining and transforming lifestyles across the world. To make online shopping a rewarding experience, a burst of ecommerce software have made their presence in the modern world.
Ecommerce software platforms integrate innovative elements and digital components to chart a powerful, scalable, and a comprehensive online business. These platforms have been developed with continuously-upgraded digital marketing techniques and cutting-edge add-ons to bring the online marketplace to life. E-commerce platforms cater to a multitude of industries by seamlessly overcoming borders and obstacles found in traditional brick and mortar stores.
This article will make a fair comparison between Shopify and Smartstore, the two celebrated eCommerce software platforms.
[su_note note_color="#567288″ text_color="#f7f6f5″]Comparison Between Shopify And Smartstore[/su_note]
Shopify
Shopify is the flagship e-commerce platform, focusing its developments on making e-commerce accessible to everyone. Influencing over 800,000 businesses worldwide, this all-inclusive ecommerce software redefines the way online marketplaces operate and scale across various markets. It's complete with powerful integration options and ground-breaking marketing tools that enable businesses to overcome challenges with ease.
Smartstore.net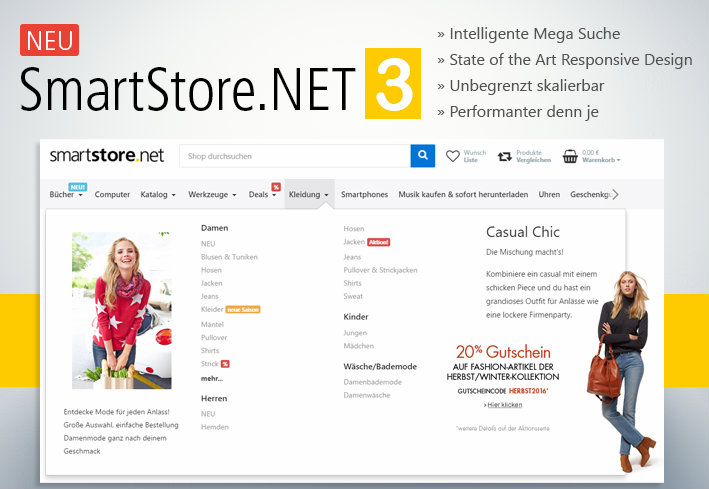 When it comes to an open-source ecommerce software with exhaustive features and new-gen e-commerce tools, not many come close to Smartstore.net. This new software in the e-commerce world is a rage among .NET enthusiasts. It's a fantastic platform, providing complete e-commerce solutions. Smartstone.net combines cutting-edge interface with easy-to-use, sophisticated features. This flexible software is compatible with any business and is developed with the latest technology for expansion capabilities.
[su_note note_color="#567288″ text_color="#f7f6f5″]Shopify And Smartstore.net: Distinct Characteristics[/su_note]
1. The Design
Shopify carries a simple yet professional design in a variety of themes that give a sophisticated look to your website. All the templates are beautifully-crafted and are easy to use. The advanced customization options add to the exquisite designs, reflecting attractiveness and professionalism.
Smartstore.net gives a unique user experience with captivating and responsive themes and amazing flexibility to customize. The stylish front-end design is well-supported by the admin backend that keeps all functions under control. Various functions like orders, payments, inventory management, and others follow a streamlined process in the backend.
2. Product And Store Management
Shopify lets you upload numerous products individually or in bulk. It's easy to build and manage your online store with integrated features working together.
The online store management keeps a record of customer profiles, with groups based on purchase history, location, and other attributes. With all the updated information, it's easy to fulfill orders with a couple of clicks. The product variations on Shopify also come with flexible product pages that customize to your needs.
With Smartstore.net, it's easy to define attributes while uploading an unlimited number of products across any category. The extensive variant system shows an unlimited number of variants for every product. Product filters and zoom options give users an added advantage.
3. Marketing Options And SEO
Shopify is a marketing paradise for online merchants. It powers websites with social media integration and the best SEO practices. You can market and sell your products on Google Ads and Facebook from a single place. There is an option for customers to enter product reviews useful for SEO.
The built-in blog helps build your customer base and increase traffic. You can also create powerful campaigns on Google and Facebook from Shopify.
Email marketing and support from MailChimp takes your products to the right customers on Smartstore.net. The e-commerce software increases your sales with customer reviews and ratings. Its smart cross-promotion activities help increase the sales of relevant products. Users have the advantage to promote their products on other shopping portals.
4. Payment Options
Shopify enables a quick and simple payment setup. The absence of third-party activation makes it easy to receive payments instantly. It also provides convenient checkout options for customers.
You can integrate the payment gateway with any credit card processor. Shopify also has its own gateway called Shopify Payments that charges no transaction fees.
Smartstore.net allows multiple payment options like payment on delivery, pre-payment, and payment through credit cards. It comes with the unique SofortUberweisung feature to let shoppers transfer the amount while ordering. There's also PayPal Express and the cost-effective iPayment processing that doesn't depend on a third-party provider.
5. Package Prices
Along with a 14-day free trial, Shopify offers users three distinct plans that serve different purposes and types of businesses. You can launch your startup with the basic Shopify plan, expand with Shopify, and reach the masses with Advanced Shopify.
Smartstore.net has four different plans that provide more freedom and flexibility to users. The Community plan is free and supports only the most basic features. The Professional and Premium plans are priced at 1,990 euros and 4,990 euros respectively and are for a lifetime.
The Enterprise plan is the most advanced package with pricing available upon request.
[su_box title="Conclusion" style="soft" box_color="#3a5a66″]Both Shopify and Smartstore.net are leading the e-commerce world with their unique approach towards the digital market space. Smartstore.net brings user-friendly tools and techniques to the table and encourages website builders to induce flavor and style in every step. However, Shopify manages to march ahead with professionalism, style, reach, and amazing functionality at every step.[/su_box]