Link building is a somewhat sensitive topic in the world of SEO and digital marketing. There are those on the peripheries who are under the impression that it's illegal and spammy, then there are those who actually work in the industry and understand that it is in fact acceptable and effective.
Unfortunately, because link building gets a bad rap, many entrepreneurs and digital marketers miss out on the opportunity to scale their brands using this valuable strategy. And in this article, we're going to set the record straight and show you precisely why an investment in link building is so necessary.
What is Link Building?
Google has been clear over the years that quality links play an integral role in rankings – going so far as to say it's one of the three most important ranking factors for SEO. But what even is link building?
In the simplest terms, link building is the process of acquiring backlinks from other websites – meaning URLs cloaked in anchor text that, when clicked, direct people to a specific page on your website. The goal is to both gain visibility and generates referral traffic.
As WordStream explains, "Google's algorithms are complex and always evolving, but backlinks remain an important factor in how every search engine determines which sites rank for which keywords. Building links is one of the many tactics used in search engine optimization (SEO) because links are a signal to Google that your site is a quality resource worthy of citation. Therefore, sites with more backlinks tend to earn higher rankings."
Contrary to popular belief, it is not dead. While you're no longer allowed to use the same spammy practices that SEOs of yesteryear used, white-hat principles still work. Follow them and you'll reap plenty of rewards.
Why Invest In Link Building?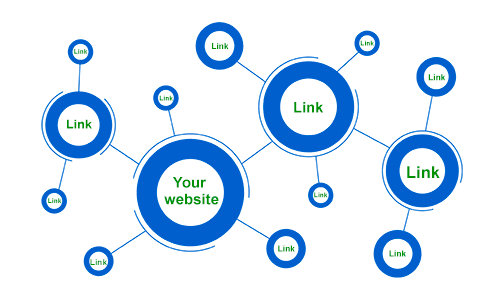 Link building is not cheap – at least not when you work with a credible, white hat service.
As Link.Build explains, "Our minimum monthly engagement fee is $2,000 per month, but we can scale up to enterprise budgets as high as $50,000 per month and have done so for some of the web's most well-recognized brands."
So it's not like you're going to pay $300, grab a few links, and call it a day. It requires an investment. And as is the case with any investment, you're completely justified in asking for proof.
In other words, why is link building a worthwhile investment? 
Well, We Have A Few Specific Reasons:
1. Builds Domain Authority
For starters, links are one of the primary signals in search engine algorithms. If two sites are equal on all measurements but one domain has more backlinks coming in from authoritative websites, that domain is going to rank higher. It's as simple as that.
2. Drives Visibility
It's not all about search rankings, there's also an element of link building that has to do with visibility. The more backlinks you have on different websites, the more possible "inroads" you have pointing to your domain. When placed on the right websites with compelling anchor text, people will click.
3. Increases Traffic
Whether it's from directly clicking anchor text or finding your web page in Google SERPs, a strong link-building campaign will drive traffic to your web pages. Assuming your website is well optimized, this gives you more opportunities to push qualified prospects through your sales funnel.
4. Deepens Your Network
There's an aspect of link building that involves networking. Whether it's connecting with other business owners, participating in guest blogging programs, or sharing your content on social media, you'll run across other people who have influence. This can directly benefit you in link building and beyond.
5. Gives You Credibility
Finally, link building helps establish credibility. Let's say, for example, that you're able to acquire a backlink from Forbes.com, Inc.com, and AdWeek.com. It doesn't matter if it's a brand mention or a natural anchor, you have the ability to incorporate an "As Featured In" section on your website and include those logos. Talk about major social proof!
6. Give Your Brand Some Life
Link building should be a part of any health digital marketing strategy. When leveraged in conjunction with other investments – like PPC advertising, content marketing, social media, and email marketing – it can help boost any website to the next level. Are you finally read to give it a shot?