Are you embarrassed to smile? Do you keep your lips closed so that you don't have to show your teeth? Are you worried about what others will think? Well, you aren't the only one. And with a few changes, you could overcome these issues and restore confidence in your smile.
How To Smile Like A Toothpaste Model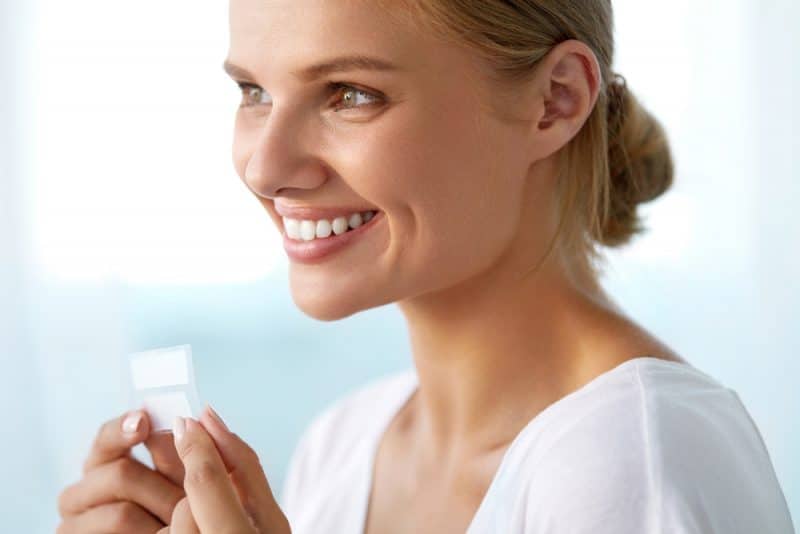 Crooked teeth, missing teeth, stained teeth, puffy gums, dry lips…most people have at least one part of their smile they aren't happy with. But the good news is there's plenty that can be done.
1. Teeth Whitening
Have yellow or dull looking teeth? You might benefit from whitening your teeth.
"When it comes to getting a whiter and brighter smile, there are a variety of teeth-whitening products you can try," MouthHealthy.com explains. "Your main options are in-office or at-home bleaching. Look for a whitening product that has earned the ADA Seal of Acceptance."
While most teeth whitening products are safe to use, it's still a good idea to consult with your dentist before starting any new treatment. Your dentist will be able to help you choose a product or procedure that's best for your teeth.
2. Teeth Straightening
Very few people are born with straight teeth. And while no grown adult wants to wear braces, the long-term benefits far outweigh the short-term frustration. Speak with an orthodontist to get an idea of how long it would take to bring your teeth into proper alignment.
3. Dental Implants
The American College of Prosthodontics reports that more than 120 million Americans have at least one missing tooth. And, unfortunately, this has a negative impact on millions of smiles. Dental implants are a highly effective solution.
"Dental implants are metal fixtures surgically placed in the jawbone underneath the gums that provide a base to support artificial teeth," Dr. Bret Dyer explains. "With the latest materials for dental surgery, your implants can look and feel exactly like your real teeth."
And while it might sound like a terrible procedure, today's techniques mean many implants can be done in such a way that the short-term discomfort is minimal.
4. Veneers
Only have slightly crooked teeth? You might be able to get away with some dental veneers. These are thin porcelain shells that are bonded onto the front surface of your teeth. They can be used to hide gaps, correct crooked teeth, and give you a cleaner smile.
5. Dietary Changes
You can improve the appearance of your teeth by making simple changes to your diet. Avoid coffee, wine, and other foods that are likely to stain your teeth. Sugary sweets are also ill-advised. Instead, sticky to fresh fruits, vegetables, and lean meats.
You'll also want to drink plenty of water. Because not only is it good for your overall health, but it helps wash away residue from food (which can cause tooth decay).
6. Giving Up Smoking
Few things are worse for your oral hygiene than smoking. Tobacco stains teeth, inflames gums, and is one of the leading causes of tooth loss. While easier said than done, quitting cold turkey will lead to improvements in your smile. It could also prevent further decline and disease.
7. Smiling Techniques
Hollywood actors and actresses often use targeted techniques to improve their smiles. Here are a couple of them:
Rather than say "cheese" – which forces your mouth into an awkward grin – say "money" – which creates a much more natural appearance.
It's nearly impossible to give a vibrant smile when you're stressed or nervous. The key is to relax the muscles of your face and jaw. Do this by closing your eyes and taking a couple of seconds to subconsciously relax the muscles around your mouth. A natural smile will follow.
Smiling is such a personal thing. Everyone has a unique grin, and that's part of what makes it such a lovely human attribute. So whatever you do, don't try to copy someone else's smile. Be yourself and let your personality shine through.
Restore Your Confidence
Confidence can be fickle. And while we intrinsically know that our self-worth isn't determined by our physical appearance, it's hard not to let self-perceived flaws suppress how we view ourselves. By addressing your smile, you can remove this burden from your shoulders and feel free to be yourself.