Is your bra size a D cup? Australian women, on the average, have a cup size of C or above. According to Notre Dame University, breast sizes increase because of the earlier onset of puberty and an overall increase in weight.
Doctors recommend women to wear the right bra size to maintain good posture. With big breasts, you tend to slouch, which could result in back and shoulder pain. Moreover, your breasts need full support during exercise. Otherwise, the movements will lead to drooping breasts as you age.
Here are tips on how to choose a suitable plus size sports bra for your needs.
Do You Know Your Cup Size?
First of all, know your breast measurements before shopping for a sports bra. Here is a quick guide:
● Get your body size. Measure underneath your bust in centimetres. Check this bra size table – look at the "Under Bust" row to get your body size.
● Next, get your cup size. Measure the middle portion of your breast in centimetres. Using the same bra size table, get your cup size. Plus-size women usually fall between D to K cup size.
A combination of body size and cup size measurements is the key to getting a right-sized fit for your sports bra.
What Are Your Sports?
Sports fall into three categories, depending on the amount of breast movement.
● Low-impact sports are where there is minimal bouncing of the breasts. Examples are yoga and Pilates.
● Medium-impact is outdoor sports like golf, walking, and cycling. In the gym, the counterpart is elliptical machines, where you simulate stair climbing, walking, and running.
● High impact sports involve maximum breast movements like jumping, horseback riding, kickboxing, and intense workouts.
A good plus size sports bra should pass this checklist:
● The material does not hurt your skin.
● Your breasts stay in place – no jiggling or bouncing.
● It allows air circulation, keeping you cool and sweat-free. Polyester and cotton are popular choices.
What Designs Look Good On You?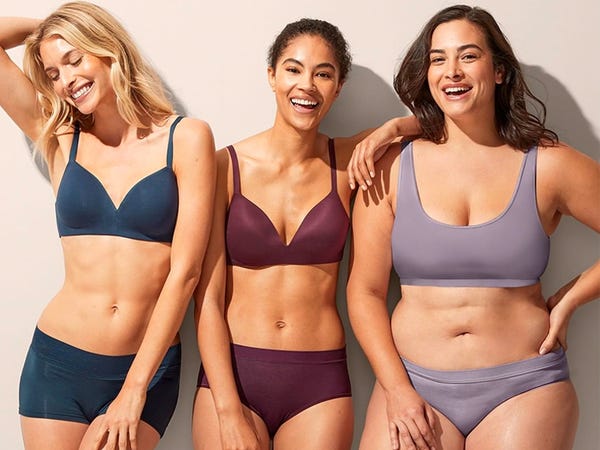 Your choice of sports bra will also depend on your personal preferences. Here are some styles available:
● Front closure sports bras are popular choices for women who find it hard to close their bras from behind. Moreover, breast size appears smaller with this kind of bra.
● Crop type sports bras can double as a top during hot weather. Plus-size women should choose those with full support. However, seamless bras do not irritate the skin because there are no wires that will protrude. Neither are they sewn with thick seams.
● Plus-size women sometimes prefer underwired sports bras for their maximum support and the appealing breast lift.
● Racerback sports bras will hide bra straps.
● For large-breasted women, crisscross styles will give an extra lift. Plus, they improve their posture by reducing pressure on the shoulders and upper back.
● While most plus-size women do not need padding, some push-up sports bras may have some padding for added shape and comfort. Plus, padding will prevent the embarrassment of nipples appearing through a thin shirt.
● The majority of sports bras come in neutral colours like black, white, and grey. However, there are some with multi-coloured designs that can also be worn as a top.
● Choose a v-back sports bra, especially if you have shapely shoulders and back.
● On the front side, sports bras can be high-cut, low-cut, or push-up. Choose whichever you are comfortable wearing.
Given these tips, you will find a suitable plus size sports bra for your everyday activities.