Running and managing a startup might look attractive, but it's not as easy as it sounds. We create hundreds of startups every quarter. Research estimates, over 70% of them fail by the end of 2 years.
If you are a startup or desire to create a startup, know that the landscape is competitive. So competitive scenario — massive growth, quarter on quarter sales revenue, and robust brand building is the key to maintaining growth and success.
A sustainable startup needs a great product. A great product needs a brilliant marketing strategy. It makes you wonder what goes into making a startup successful and how video marketing can be useful in ensuring and boosting startup growth. In this article, we explore that.
Following are the ways in which you can boost your startup growth.
1. Startup Growth And Video Marketing: A Match Made in Heaven
A startup is but a small business backed by investors and venture capitalists. Most startups don't take advantage of the number one growth hack that is a powerful way to reach new audiences, get more leads, and leverage your customers — Video marketing.
Video content has been consumed the most by the internet today. For starters, people spend an average of 6 hours per week watching videos. Videos are highly engaging and an effective communication tool capable of sending your message across in a short amount of time. Video is easily consumable and entertaining. Need more reasons?
How does it matter to your startup growth? T The answer is more customers.
How do you get more customers? By casting a wide net across multiple domains, communities, age groups, and socio-economic backgrounds. Video marketing helps you do precisely that, and that is why your startup needs video marketing the most.
2. Create A Video Series
Why make a single video when you can create a series? Much like the Netflix format, creating a video series is more engaging with the target customer because it cultivates interest to keep watching the video in succession. The popularity of videos across all channels makes it inviting for startups to build brands.
Communicate new product launches, showcase demos, and walkthrough using a series rather than a single video. Click here to know more.
If you keep up with the latest video marketing trends, you know that the newest trend is short-form video content. Platforms like Tiktok Instagram Reels are gaining rapid popularity because of their addictiveness and simplicity. Audiences are gobbling up snackable content and scrolling through or swiping through it subconsciously, making it an interesting time to create video series.
These consecutive videos in the manner of how-to videos, brand and team culture testimonials, Q and A session are some ideas that you can use to create your next video series, which will help you boost growth. You can learn more at thestorytellerstudios.com. Good references and competitors' research will be key to success within this or any other industry.
3. Create LIVE Shows And Videos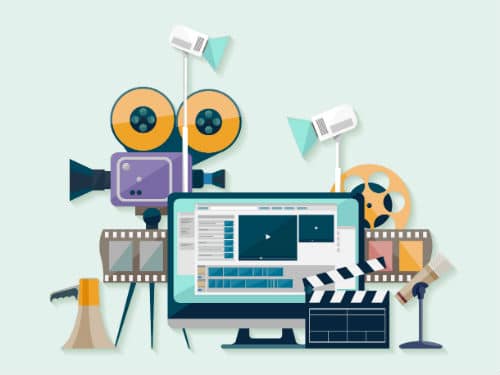 Customers are always looking for new and exciting ways to connect with brands. As a growing startup, you must connect with customers at every level. If you do, they will willingly refer your product or service to their network, eventually increasing your sales and revenue.
What are some interesting ways in video marketing that you can use to connect with your customers? Apart from the obvious ones like creating video series, company culture, sharing customer testimonials, it is LIVE videos and shows that are now taking the lead.
LIVE makes it easier for potential customers to look at your brand's human side and act as an icebreaker. Social media platforms like Facebook and Instagram offer LIVE services with no additional charge and are simple to produce.
In LIVE sessions, customers can connect with you in real-time, making it easier for them to ask you a question that might have caused them and apprehension to buy a product or service. LIVE videos are also so helpful to expand your reach, addressing frequently asked questions.
4. Social Media Platforms Love It
It should come as no surprise that we fill social media platforms with videos. Platform algorithms love it and push it to more customers worldwide.
Login to any social media platform, and you'll see that every second post is a video post. Social media platforms are there expanding marketing tools for startups of all shapes and sizes. Since video works best on social platforms, startups use video to capture peoples' attention for a long time.
Video is used to generate user engagement, audience connection, drive traffic, and get sales leads instantaneously. Videos get 10x more engagement as compared to when you put out a tweet or written post. The insight here is to leverage video favored by social media platforms to increase brand awareness among your existing and potential users.
5. Add Videos To Your Email Marketing Campaign
Video is growing in popularity, almost everywhere; this emphasizes that a brand should include in your email marketing campaign. Since the beginning of digital marketing, email marketing campaigns have been consistently used by startups to reach out to customers, follow up with potential customers, and introduce new products.
Google did it, so did Amazon and PayPal. However, today emails have become more of a habit, and people don't want their habitat filled with a lot of spam. So changing times call for a change in method.
If you're sending out email campaigns talking about all the things you are doing through a video instead of written content and seeing how your customers respond to it, we are sure you will get a high rate of engagement.
6. Helps Your Create And Analyze ROI
Growing a startup means no matter what you do, there should be an ROI. In a recent survey by HubSpot, digital marketers found that videos give an annual return of 88% as compared to blogs, image posts, or other types of content marketing. So it makes complete sense to include video marketing in your overall marketing strategy.
In some traditional forms of content marketing like blogs, it is difficult to track how many people read the blog or what is the value they got out of it. Video is at the opposite end of this spectrum. The advancing technologies in various social media and video sharing platforms give you the ability to gather insights for several things as follows:
Understanding how long the audience views your video
At what minute to your audience drops off
What percentage of the audience click your website of product page embedded in the post
What percentage of the audience replay the video and more.
Based on such meaningful insights, you can decide and accurately pinpoint what's working and what's not. Aforementioned makes video marketing a focused tool to reach out to those customers who are most likely to convert paying customers. Isn't that wonderful?
Wrapping Up
We cannot emphasize it enough, but the video is dominating and here to stay. The good news is that you can be part of it too. Most startups work within a limited time and budget and might think that video creation is time-consuming and expensive.
That's not true. Using online video editor tools like InVideo, you can create professional and shareable videos in less than 5 minutes.
What's more? There is no better way than video to build personal connections with your customers. Today is the perfect opportunity for startups to interest customers, build brand awareness, and gain trust using video marketing.